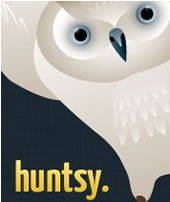 Huntsy.com is another great job search tool. Huntsy is completely free and it lets you bookmark jobs on any job page across the web. Just go to indeed.com, careerbuilder, or monster.com and Huntsy will load that job onto your Huntsy account with the click of a button. Once that job has been loaded onto your job page Huntsy will guide you through a step-by-step automation of sending applications, scheduling an interview, and following up. This allows you to focus on applying to several jobs at once without overwhelming yourself.
Writing emails over and over to potential employers can become a pain. Huntsy lets you make email templates so sending out your application is a one click process. Huntsy also uses social media to help you with you job searches. Connect on Facebook and Twitter so Huntsy can tell you when you have personal connections at a company. Connect with Twitter so Huntsy can tell you if you have a follower or friend at a company. The last great thing about Huntsy is you can use it to add contacts, set reminders, and add notes to specific jobs.
What I like:
It only takes a minute to get started with Huntsy.com. You simply make your account by listing your email and just like that you are ready to start hunting. I would definitely recommend downloading the Google Chrome extension upon registering your account. This extension will serve very useful when searching different sites. If you don't use or like Google Chrome download the Huntsy bookmarklet it will do the same as the chrome extension.
The automation that guides you through your application process reminds you when you have a scheduled interview, a task assigned, and anything else you can think of that is necessary when finding a job. It's a simple automation and it makes sure you are taking all the right steps in the application process.
Instead of writing an email over a thousand times use Huntsy's email templates. Whether it's a cover letter, thank you note, or resume submission you can simply plug in your email template and change a few simple things such as names and jobs.
Lastly, It's free.
What I don't like:
I'll admit, I like the idea of integrating social media into your job search process especially with Linkedin. My problem is that after syncing my accounts it doesn't really tell you much. All it tells you is if you have any contacts with that company. To me, that seems like something you should already know. What would be more useful is if they could tell us if any of our contacts have contacts with someone from that company and so on… All they would have to do is use the Linkedin 1st, 2nd , 3rd connection system to find that information.
I don't like that you can't sub-group the jobs you apply for. Some people's lists can get pretty big and sub-grouping these jobs might be the only way to truly stay organized.
Overall, Huntsy is completely free and integrates the job application process as well as social media. I would consider this product to be a slam-dunk for job seekers. If you like what you've hear about Huntsy check it out. It only takes a minute or two to get started! www.huntsy.com