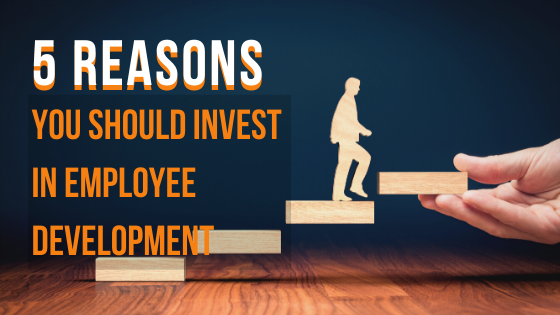 In a recent survey conducted by the Association for Talent and Development of 494 employed American adults over the age of 18, 39% of respondents reported that the opportunity to advance their careers is a motivating factor at work. Providing training and development opportunities helps create a vibrant workplace for employees to grow.
Yet even in the face of these statistics, there's a gap between companies that understand training and development is a sound investment, and those that don't.
So, the question is: Why would you invest in your employees' development?
It Gives You A Competitive Edge
No CEO wants to be faced with the consequences of their company losing the competitive edge. You may be a leader in your field, but if you're not investing in training and development your company runs the risk of losing employees to your competition. But, by giving your employees the opportunity to build and develop new skills, you're not only investing in them but also your company's operational efficiency. Company goals and objectives can be met that much sooner.
It Helps You Save and Earn Money
Believe it or not, training and development are less expensive than firing, hiring, and retraining. The Association for Talent and Development 2014 State of Industry Report determined that the cost of replacing a human resources manager is about $133,000, whereas the cost of training an employee is on average, $1,208. While training current employees can be cheaper than hiring new employees, there's another important type of saving: time.
A well-trained and engaged employee is an added benefit to your company and a cost saver. Approximately $11 billion is lost annually due to employee turnover. With training and development, employees are more efficient and proficient.
Remember, a great employee is like money in the bank, and you don't want to lose money!
It Strengthens Your Talent Pool
Training and development strengthen your talent pool, which reduces the risk of losing employees who are perceived as "irreplaceable." The more highly skilled employees you have, the larger the pool you'll have to draw from when looking for new managers. Promoting current employees to management positions is often more preferable because they know the in's and out's of the company.
It's a Valuable Retention Tool
Investing in employee development helps build loyalty. It shows employees that you value them not only as employees but as individuals, you want to see them grow. Providing a challenging and interesting training programs increase employee engagement, and keep employees happy and satisfied.
It's a Useful Recruiting Tool
Most job seekers are looking for more than a salary and some perks. The highly sought after employee wants a position that will allow them to learn new skills and build toward their future. In a recent survey, Sodexo employees named career growth and opportunity as the number one reason for coming to work for the company.
Remember that the opportunity for professional development can often be the deciding factor for a candidate who is choosing between your company and a competitor.
---