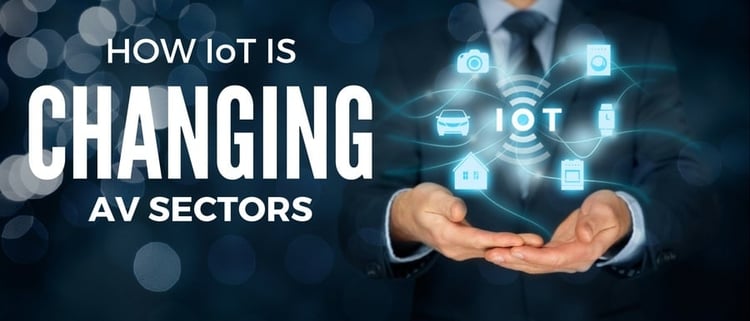 The Internet of Things, or IoT, is the network of devices (cars/buildings/refrigerators) embedded with software, sensors, electronics, etc that allow them to network and communicate and exchange data. It's an exciting development impacting many sectors- prime among them, the AV industry.
Cutting Costs.
Less Hardware = Less Money. With the IoT, audio and visual information are transmitted wirelessly. It can be run on the same cable as the internet, phones, power and other devices, all which contributed to cutting down on the costs of wiring. The number of necessary control devices also drops as one display can be used to run all of the operations. Technology such as Power over Ethernet (PoE) is just one example of this consolidation of wiring.
Easing Integration.
IoT allows for multiple devices to communicate with one another remotely. This opens a number of possibilities in AV. A conference room could have a screen that is connected to multiple devices, allowing for multiple attendees to display information with no wires. Microphones can be switched on and off from one central device, say a desktop or a smartphone. Sensors on the windows read the amount of sunlight coming in, and communicate with the lighting to adjust the overhead lights as needed. The possibilities are quite endless.
Smart Signage.
With IoT, digital signs are becoming more reactive, and therefore more effective. If, for example, a customer walks into a store they've shopped in previously (or have a membership to), digital signage can now offer/advertise specific items to that customer. All the sign needs is a Bluetooth connection to a customer's phone and it can tailor offers similar to previous purchases from the customer.
Or, signage can be informative. EZ Pass gateways can time how long it takes vehicles to move between tolls, and let drivers know the estimated time with current traffic conditions. Airports can read how many Bluetooth devices are in a security line, and how long it takes each one to get through. Then, they can automatically message flyers with an alert if they should arrive early due to unusually long security lines. Parking garages can sense which spaces are open, and connect to a car's satnav to direct them to the most convenient spot.
Homes with an IQ.
When it's said that IoT can connect anything, it isn't an exaggeration. Samsung is working to create a full line of home appliances monitored and controlled with a mobile device. Lights, the radio, even a fridge can be monitored and controlled with your phone from anywhere.
Eye in the Sky.
Do you know what's really cool? Taking birds-eye-view pictures. Or Videos. And with IoT, this has become a lot easier, using drones. With the ability to take shots that would normally require much more money or setup time, drones allow companies big and small to get footage beyond comprehension. The applications of drones in AV range from landscaping advertising to sports events and so on.
A Bright Future
All of these changes and advancements mean that the role and expectations of AV companies are changing with them. When looking for talent, a few specific skills need to be kept in mind.
1) Knowledge of IT is no longer a perk, it's a requirement. Being able to set up a network, or test the connections between devices is important. Integration doesn't mean just physically setting up a system, it's making sure all of the devices are talking to each other digitally.
2) AV companies need to be looking for Information Security Analysts (read more on how to hire the best infosec analysts). With all the new forms of connectivity available, comes a host of new ways for information to be stolen or compromised. Security has to be a prime concern when we have multiple devices talking to each other and accessing data and personal information.
Staying ahead in the AV space doesn't only mean having the newest equipment, it also means keeping an eye on all the other info-sec technologies. Integration is the name of the game if you want to stay ahead of the competition.
Related Blogs:
HOW TO HIRE AND RETAIN THE BEST SECURITY ANALYSTS
IOT SECURITY: PROTECT YOUR COMPANY AND CUSTOMERS