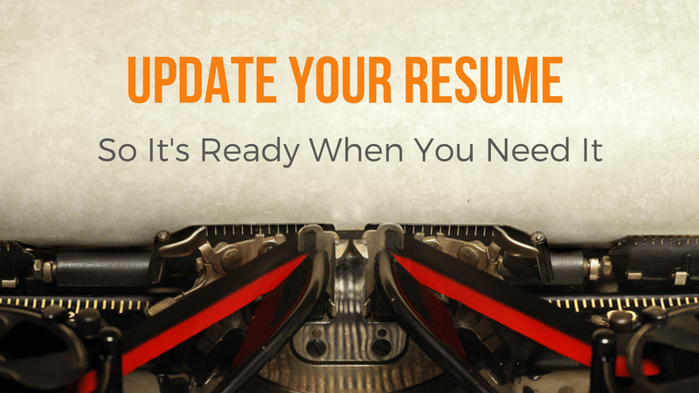 Remembering to update your resume is just one of those things everyone intends to do, but really, whoever gets around to it? That is until the day when you need it, and you need it fast. So, if you're like most people, you dust off the old resume, throw your most recent experience in at the top and you get it out the door without a second thought.
But while your efforts may have been expedient, they are far from expeditious. You are not showing yourself in the very best light. We know that most recruiters will only spend an average of 6 seconds (6 seconds!!!) looking at your resume. You could be the most qualified person on earth for a position, but if your resume is not up to snuff then you run the very real risk of being overlooked.
Let's run through some simple, easy ideas to help you avoid the last-minute rush, and keep your resume up to date so it's ready when you need it.
How to Keep Your Resume Up-to-Date
Mark Your Calendar
Think about the things you do on an annual or bi-annual basis. Dental cleaning, spring cleaning, rotating the tires on your car. We have built-in reminders for all these chores; the dentist office rarely lets you leave without booking your next appointment in advance, spring has a funny way of making us WANT to clean out the closets, and your mechanic (if they're worth their salt) will practically insist on rotating the tires at every oil change.
Why not create a built-in reminder to update your resume? My suggestion would be to use something that happens every year, or even better yet, twice a year. Daylight saving time might be the perfect candidate, this way it can become something other than the bane of parents of young children and anyone who dreads losing an hour of sleep every March.
So on Sunday, November 3, set a reminder, check the batteries in the smoke alarm and sit down to clean up your resume.
Clear The Clutter
When you're an entry-level professional, it's common practice to pad your resume with references, club affiliations and college accolades. But once you enter the workforce, all that padding needs to be stripped away. For the first few years you should still maintain a focus on your education, relevant internships and other skills you developed along the way but be certain to keep your most recent experience at the top.
Once you're further along your career path, your resume must focus on only the most recent 10-15 years of experience. Be certain to edit out any skills, affiliations, college awards and outdated certifications that are no longer relevant. You might be attached to that Certified Novell Engineer cert you worked so hard to earn, but all it will tell potential employers and recruiters is that you are way behind the times.
Build The Perfect Ice Cream Cone
So what exactly does ice cream have to do with your resume? Well, just as all the good stuff is at the top of an ice cream cone, that has to be the case with your resume as well. Devote the majority of real estate to your most recent experience detailing projects, presentations and quotas met or surpassed. It's here at the top that recruiters and hiring managers want to hear about accomplishments, and read stats from your last quarter. Providing the meat of your abilities (pardon the mixed metaphors) at the top, where the eye is naturally going to go, allows the folks looking you over to get the best snapshot of your current skill level.
As you move further away from the present, descriptions and lists of responsibilities become briefer. However, this isn't the place to generalize. Providing dynamic descriptions of your past positions paints a much richer and fuller picture of you than a rote listing of job titles.
Practice Monthly Maintenance
When you are updating your resume there's nothing worse than trying to remember how a specific project went down, or where on earth you filed those stats. In order to avoid a rush job, or trying to weed wack your way through your memory, I'd suggest you maintain a log of ongoing and completed projects, sales or installations. Not only will the information be at your fingertips when you need it, but you are more likely to remember the details better if you've kept a chronicle of it in writing.
Just as you make it your business to stay current with certifications, training and the most recent trends in your sector because it makes you a better employee and candidate for when you are ready to move up to your next job, keeping your resume up to date is part of career maintenance.
---