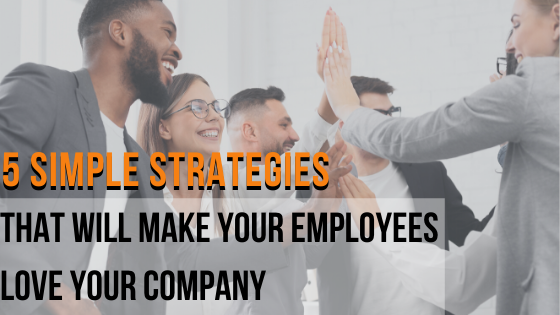 According to a recent survey conducted by the Association for Talent Development, there are 5 reasons that motivate employees to stay with their current employer:
A good manager for whom they enjoying working for

Feeling appreciated by their manager

The opportunity to advance their careers

A promotion or a new title

The opportunity to learn or develop skills
Employee retention is one of the most important focuses for a company. High employee turnover can have both financial and non-financial repercussions. In addition to facing increased costs in employee selection, training, and separation, there is also a reduction in employee morale and productivity to consider.
Here are some strategies to keep your talent pool happy, healthy, and productive.
Provide Competitive Employee Benefits
Provide competitive benefits that meet your employees' needs is essential in retaining your best talent. Comprehensive health insurance that includes family plans, life insurance, and competitive 401Ks gives employees a sense of safety and builds trust in your company. Be sure to routinely re-evaluate your benefits package to accommodate employees' needs.
Small Perks Can Make a Big Difference
Small perks can be little and inexpensive things that can go far in the retention of your employees. Fitness stipends, telecommuting options, at work stress-relief programs help employees manage work with their everyday life, reduce stress and can even increase productivity. Offering occasional catered lunches or company retreats also help to enforce the company's culture and build stronger relationships among employees.
Foster Employee Development
Promote from within...
When a position opens up in your company, consider your existing talent pool before looking outward to fill the space. Promoting from within motivates employees to work hard and creates a clear career progression path for employees. For example, Sodexo employees name career growth and opportunity as the #1 reason why they choose to work for and stay with the company.
Leadership Training Programs
Offering training programs for current employees show your employees that you're committed to their development. You can offer training programs in new technology, industry standards, and anything else that will equip your employees to progress in their careers.
Encourage Work-Life Balance
Creating programs and policies that encourage work-life balance will show your employees that the firm cares about their well being. Offering work-life balance workshops can teach employees how to better balance their work and personal lives and reduce work-related stress. Policies such as flex time and personal time-off can lead to employees having more of a handle of their schedule and be able to work it around their personal life.
Create an Employee Buy-In Strategy
Finally, to improve employee retention, help employees "buy-in" to the mission and vision of the company. Help employees understand the impact their daily tasks have on the company's mission and make the connection to how the mission benefits them. Other things such as sponsoring employee and family events encourage team building and family inclusion at work events also work well as buy-in strategies. Clearly defining the WIIFM (What's In It For Me) around the company's vision to help foster excitement, motivation, and engagement among employees can help keep your employees happy.
---