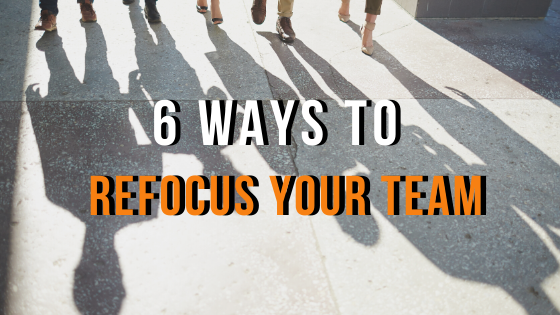 It happens to the best managers - your team was cruising along, making deals and running like the well-oiled machine you built it to be.
But then something happens. The latest flu makes the rounds in the office picking your employees off one by one, or people are having a hard time refocusing after vacation. Whatever the reasons, it's time for you to refocus your team and get things ramped back up.
5 Ideas to refocus your sales team
Wipe The Slate
A stockpile of work can be overwhelming, but there's nothing worse than having fluff making the pile even higher. Take the time to go through projects and clear out irrelevant and outdated tasks. What seemed like an important project back in early July may no longer be applicable. Clear the decks so you can get the team working toward clear and achievable goals.
Make A Plan
Even if you had the whole year mapped out, now is the time to realign and reprioritize. The best way to get your team back into fighting shape is to present them with a game plan. Clear priorities and a newly energized effort help set the tone. We are back and ready to start cranking out the deals!
Resurrect Boundaries
Dress code and Friday closing times aren't the only things to get loosened up in the summertime. Boundaries and conventions have a habit of slipping as well. Take these days in the early part of September to re-establish the conventions that help make you the most productive. Close the door to your office or put your phone on Do Not Disturb for a few hours in the morning in order to give yourself the time you need to refocus. Do what you need to do to send the signal to your team that its nose to the grindstone time.
Authorize and Engage
Sometimes the best way to get the blood going, and to show your team they're valued, is to change things up. You've hired a crackerjack team, now it's time to push them. Give an individual a new responsibility, enhance a particular group's reach. This isn't about playing favorites, but it is about creating new avenues for development, both individually and for the team as a whole.
A Little Competition Goes A Long Way
There's nothing like a little friendly competition to get people back into fighting form. Creating a sales competition is a great way to get the blood going again.
If a sales competition is not pertinent to your business, then try a fundraising challenge or even plan a sporting event. The idea is to get the team reinvigorated and re-engaged both together, and individually.
Take the time to reinvigorate and re-engage your employees, and the benefits will be seen long past the close of the quarter.
---