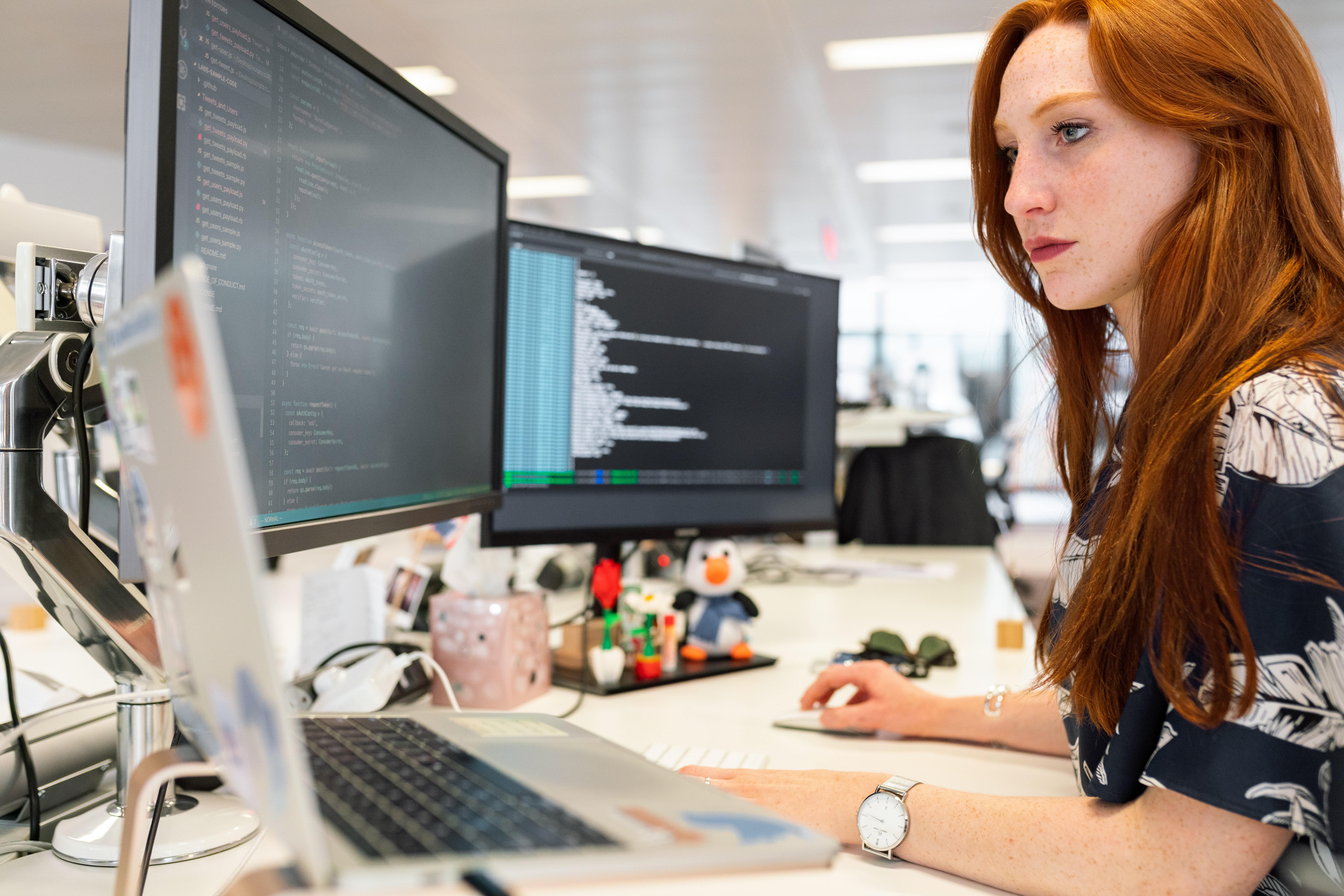 According to The National Center for Women in IT, tech companies with women in management positions achieve a 34% higher return on investment.
Yet, women still only occupy 26% of the over 4 million computer science-related positions in the country and account for only 11% of executives in Fortune 500 tech companies.
Not only is the lack of diversity in tech profoundly out of line, but it's also bad for business.
The good news is that a good number of organizations and initiatives have cropped up around the country to change the game. Some are focusing on girls still in school, others on offering training to women already out in the workforce. But what unites all of these organizations is the belief that not only should women be occupying an equal share of the over 3 million tech jobs, but that they are in fact the future of tech.
Here's a rundown of 8 of the leading not-for-profits and organizations working to forge a path to get more women in tech, and to help women make their mark in the industry.
Here are 8 Programs Leading the Way for Women in Technology
The US-based program has taught over 450,000 girls to code to date. They offer both after-school clubs which are open to 6th-12th-grade girls, and summer immersion programs for 10th-11th-grade girls which take place at leading technology companies. With locations in all 50 states, Puerto Rico, and the Virgin Islands, they are driven by the single-mandate to close the gender gap in the technology sector.
Brookview House in Dorchester, Ma, an organization dedicated to helping homeless families develop life-skills and training has opened their own chapter of #girlswhocode. This kind of outreach to underserved communities is actively changing lives. Not only are they empowering girls who might not have ever thought they were entitled to a career, but they are also laying the very foundation these girls need to launch successful careers in tech.
Black Girls Code's vision is to: "increase the number of women of color in the digital space by empowering girls of color ages 7 to 17 to become innovators in STEM fields, leaders in their communities, and builders of their own futures through exposure to computer science and technology. To provide African-American youth with the skills to occupy some of the 1.4 million computing job openings expected to be available in the U.S., and to train 1 million girls by 2040."
And they're succeeding. By reaching out to underrepresented communities to teach coding on platforms, such as Ruby on Rails and scratch, Black Girls Code is engaging girls who might never have been introduced to tech in their schools. Through programming and game design, they are preparing black girls to not only take their place in the tech sector but to become the designers of their own futures.
A not-for-profit organization, Code.org is dedicated to expanding access to computer science to underrepresented populations including young women. They also provide professional learning programs for teachers to integrate CS into their classrooms, are working to set up policies supporting CS and partnering with school districts to add CS to the curriculum.
Currently, there are 60 Million students on Code.org and 27 Million of them are young women.
Their Hour Of Code initiative, a free one-hour tutorial designed to provide a fun and easy introduction to coding, is available in 45 languages and has been implemented in over 180 countries.
4.
Girls can Code: The
Womanity
Foundation
This not-for-profit has set out to empower women of all ages in developing countries and to help accelerate progress within their communities. Inspired by the UN Sustainable Development Goals, their mission is to
Support girls and women's access to quality education and vocational training.
Create employment, revenue generation and professional career opportunities for women.
Promote avenues that give women a voice in society, politics and governance institutions.
Protect women and girls' physical and psychological integrity.
The Girls Can Code initiative in Afghanistan, works in accordance with the Ministry of Education, allowing them to build an intensive introduction to coding for young women in Kabul.
In other words, they are working within cultures to help create a path for women and girls to succeed.
#builtbygirls is one of the organizations leading the way past simply teaching girls to code. As stated on their homepage, they recognize that there are countless opportunities for careers in tech and they've made it their mandate to prepare girls to innovate and lead.
Wave Utilizing a devoted mobile platform, this mentorship connects girls 15-18 years old with mentors in the technology sector. Over the course of 9 months, the program pairs each of the 150 girls with 3 mentors, based on the girl's areas of interest. The 3 month period with each mentor is spent in communication in which the 2 will solve a hypothetical problem related to that business or sector. Much of the communication takes place through the app, but the program also includes a monthly visit.
At the end of the 3 months, the mentor then introduces their student to 2 relevant contacts from their network - meaning that upon the completion of the program, each student will have a minimum of 9 contacts in her field of interest.
The program launched with 150 girls. They have now made 10,000+ mentor matches for young women in technology.
Girls Who Fund On the VC/startup end of the business, #builtbygirls offers a summer apprenticeship program for college-bound girls at BBG Ventures, an early-stage seed fund investing in consumer tech startups with at least one female founder.
During the month-long program, girls learn the fundamentals of running a startup, and study the bones of venture capital (VC). They also are afforded the amazing opportunity to not only meet leaders in the VC field but to also sit in on pitch meetings.
What began with one class offered in NYC in 2010 has since blossomed into an organization with chapters in over 60 US cities. GDI provides low-cost training for women to learn web and software development. Their focus is on providing a judgment-free experience where women of all backgrounds and economic levels can learn new skills while increasing their confidence and career prospects. And it seems that they are succeeding, as their organization represents over 100,000 women to date.
Founded in Finland, Rails Girls has now blossomed into a global not-for-profit community. Sponsoring events that are organized by volunteers, Rails Girls focuses on providing women with the tools, the knowledge, and the vocabulary to build out their ideas. By making technology more approachable they are empowering a new generation of business owners, entrepreneurs, and content providers.
Also born out of a single workshop, this one in San Francisco in 2010, Railsbridge Triangle is devoted to creating diversity in tech: not only gender but race, sexual orientation, ability, and class. While their first workshops might have focused on women, they have since expanded their scope.
As they say, they "value acceptance, enthusiasm, and hard work. The Railsbridge community thrives on optimism and a love for making great things."