What Are the Most Sought After IT Positions?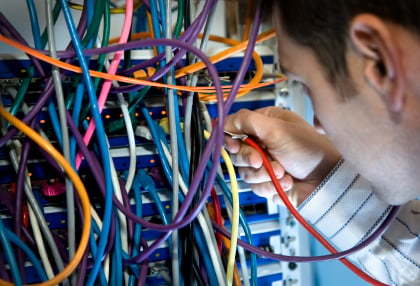 Today's world is driven by technology and the only way to succeed and prosper within it is to evolve and innovate. IT infrastructure, Internet accessibility and a strong web presence are all essential to the successful modern-day business. It is for this reason that IT jobs are quickly becoming some of the most import jobs available. J Patrick and Associates specializes in the placement of these highly sought-after individuals. Leveraging years of experience and expertise within IT recruiting, our company finds the best candidates to fill today's critical IT positions, including:
1) Project Managers
- Project Managers are brought in to oversee all the operations and make sure everything is running smoothly. These IT Project Managers are tech-savvy as well and they help to get the motor running so that work is completed efficiently and effectively, within the specified time and budget parameters. Having a good project manager will impact your business positively in the long run.
- Average Salary: $98,000
2) Software Engineers and Developers
- Software Engineers and Developers are the heart and soul of any computer-based company. Nowadays, these types of positions typically require a Computer Science degree; any potential candidate would be hard-pressed to find a job without it. Considering that they create "grounds that everyone else walks upon", hiring managers must be completely sure that they have hired the right people to take on this important task.
- Average Salary: $85,000
3) Business and Systems Analyst
- These are two of the most sought-after IT positions because they involve setting goals and objectives based on numbers. Business and Systems Analysts are also business-minded: they are in charge of setting business strategies and forecasting future projections. Business and Systems Analysts are also in charge of keeping a close eye on the market in order to monitor and implement technical innovations and technological advances.
- Average Salary: $78,000
4) Web Developers
- Web developers are highly sought-after professionals. As 'behind the scene' people, Web developers are proficient in various types of software. Being tech-savvy coupled with resourcefulness and imaginations enables them to fluently design websites to be user-friendly, creative and engaging. Without them, your company wouldn't have essential web presence, limiting its marketability and thus negatively affecting its bottom line.
- Average Salary: $77,000
5) Computer Programmers
- Computer programmers are in charge of the everyday computer tasks. Including design, writing, testing, debugging, and maintenance of computer program source codes. They are highly proficient in innovative technologies, software, hardware, and programming languages.
- Average Salary: $72,000