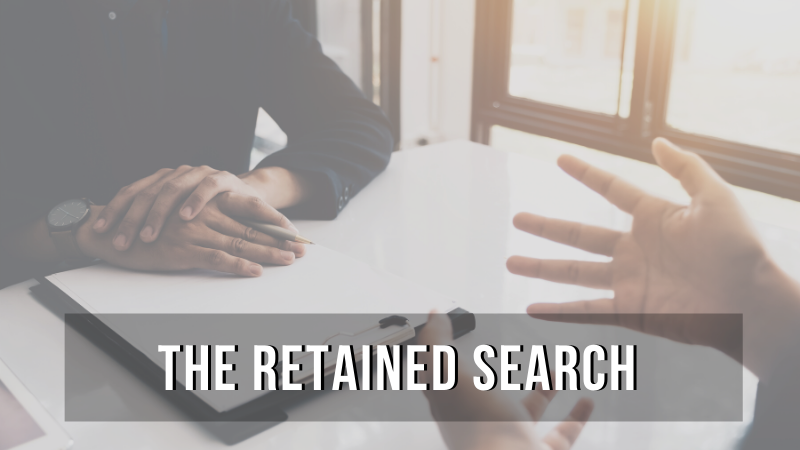 Here at J. Patrick & Associates, we utilize many recruiting models to perform searches. One method includes doing a retained search for the hiring firm. And when a retained search agreement is in place at J. Patrick & Associates, many things have to happen.
A retained search is typically executed for upper management, or executive-level positions. These include CEOs, Marketing Managers, CFOs, etc. These are lofty hiring decisions; potential candidates must be very experienced and have a résumé to prove it.
When J. Patrick & Associates initiates a retained search, we dedicate ourselves to a time commitment extending far beyond that of any other type of recruiting model. Considering that we are searching for an extremely highly-qualified candidate with impeccable credentials, we painstakingly sift through vast quantities of résumés to determine who survives the cut. Once we've found potential candidates, he or she must first undergo a phone interview that usually takes 45 minutes to an hour.
A candidate whose résumé may not be that strong might truly shine during the phone interview and in turn, show that they are a strong candidate for the position. According to Daniel Sullivan, CEO of J. Patrick + Associates, this happens more often than you would think. This moves them from bottom of the barrel to the top.
The first step in performing a retained search is to negotiate the retainer fee. The reason for this is because filling a key or c-level position is usually critical to the success of the organization. The retainer fee is a percentage of the total engagement fee, and is paid up front. It represents a promise from both sides. For the hiring firm, it indicates that that they are serious about finding that perfect candidate. For J. Patrick + Associates, it means that we put the needs of the hiring firm ahead of all other obligations. Furthermore, it means that we will undertake the retained search with all our available resources.
Many hiring companies wonder how long a retained search will take. Put another way, when can the interview process begin? While we can't always say exactly how long the process will take, we can promise that we are most definitely not the bottleneck in the process. Remember, as long as your firm has the retainer in place, J. Patrick + Associates will work around the clock to source the best candidates available for your organization.
When a hiring firm decides to work with J. Patrick + Associates and elects to conduct a retained search, it takes precedence over all other ongoing operations. When you need to fill a critical position, rely on the dedicated, experienced, and expert team at J. Patrick + Associates to find the right person for the job.
---