Putting an Effective IT Business Ecosystem to Work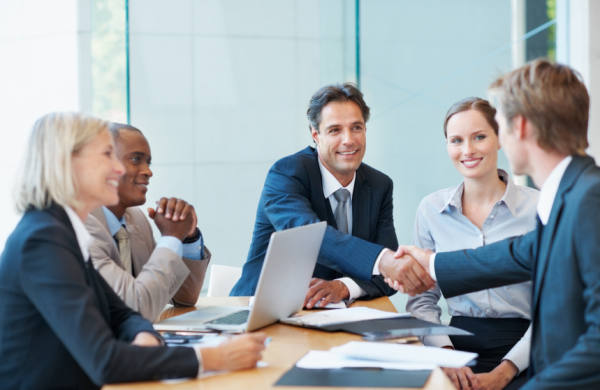 J. Patrick & Associates has been around nearly two decades. Over this time, we have developed a clear vision of the IT business ecosystem. Along the way, we've also developed sector-specific hiring expertise and understanding that the needs of the hiring firm go well beyond matching a paper candidate to a particular position description. You may be familiar with many of the advantages this enables us to offer you over traditional firms and database-driven hiring.
Agility, for one. We're ready to move now and leverage unique industry insight to help drive your most favorable hiring decisions. Market Intelligence, for another. We are prepared to help you the right person for that key position right now--but also ensure you're positioned for the larger demands of an evolving business environment. And perhaps most importantly, relationships. We've been placing great candidates at great firms for practically 20 years. In the recruiting world, that's no mean feat. It's no accident either; it's proof of a winning track record.
We've been blogging recently about some of those more easily seen advantages to engaging a top and successful search firm like J. Patrick & Associates. Let's talk a bit more now about what that looks like when it's put into action. After all the initial legwork is done, then the real work of hiring a candidate begins. It's time to close the hire. I'll start by saying that in the 20-year history of J. Patrick, we have never been the hold up during the recruiting process. While average times to hire vary by industry, in the IT sector this is usually about 4.8 weeks. One of the advantages we offer our clients is an opportunity to contract that time frame.
It's worth pointing out that the cost of vacancy can be really, really painful to your bottom line, so it's in your best interest to get the right person on the job as soon as possible. Say for example, you need a sales engineer and you're willing to offer him or her an $80,000 annual salary. Each day that spot goes unfilled, you're looking at a loss of earnings potential between roughly $900 and $1,540. That adds up in a hurry.
J. Patrick recognizes that sourcing is just the first step, and we transform interest to intention, walking you and your potential candidates through the process by preparing, communicating, qualifying and following up on each phase until it's time for you to meet face to face. And here is another step in the process where we help you reduce your recruiting timeframe and close the hire through hands-on engagement.
Once we're confident that we've got the best of all candidates for you to select from, we bring everyone together and bring the process to a quick and successful close. Your staff, your candidates, and the J. Patrick team converge at a select venue and, in effect, sort the wheat from the chaff. In short, we get all the players in the same place at the same time and create an environment that enables you to be proactive, coordinated, and efficient. You'd be surprised at how something this simple speeds up the process. But the threefold value of momentum, shared feedback, and immediacy (memory fades) is undeniable.
Why does it work so well? Simple, it's intense and efficient. Everything is set up for your team, and that ensures you obtain maximum return on your time and effort. It's a turnkey solution from the venue, the candidates, the documentation, right on down to the catering; we've got it covered. You're free to focus on building a winning team from the best candidates available. All this takes tremendous time and effort - you won't get this level of service (or results) from a LinkedIn Recruiter subscription.
It's time to consider a firm with proven expertise and resources, like J. Patrick & Associates, to provide the results your business demands. Reach out to a qualified J. Patrick recruiting professional today to see how we can help you assemble a talented, motivated, and dedicated team.