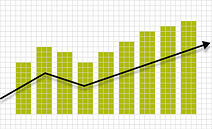 Organizations everywhere are choosing to bypass purchasing on-premises equipment in favor of renting hosted space and equipment. Referred to as colocation, it provides rapid scalability, tremendous cost savings, secure connectivity and all of the stability and protection that is needed to gain a competitive edge in today's market.
For this reason, colocation is a hot commodity as the market is currently undergoing a 15 percent growth rate that is expected to last through 2014. And industry pundits are projecting that this growth is far from over, as it is anticipated that it will reach $10 billion by 2017.
As a result, job seekers stand to benefit significantly since manpower is needed to support this growing industry. Colocation is fueled by data center infrastructure such as racks, servers, cables, switches and power. Data centers are massive facilities that require both advisors and operators to function properly.
Here are some of the jobs that you can expect to find opening up in this space, and what each position entails:
Solutions Architect: This position mandates having the highest level of pre-sales technical compliance on the data center team. Solutions Architects typically involve managing multiple projects at once, and therefore require advanced knowledge in developing and guiding IT projects. The Solutions Architect is responsible for developing technical project components and standardizing central processes.
Colocation Engineer: Colocation Engineers are most often involved in providing developing technical designs for colocation, but also have a hand in providing technical support, presenting projects to clients and working closely with them to deliver need-based solutions. This position mandates a thorough understanding of the technical components of network infrastructure.
Director of Product Management: Colocation services need to be created, priced and sent to market—and this falls under the responsibility of the Director of Product Management. This position oversees not only data center space, but also power and cooling needs. Essentially, Product Managers ensure that the colocation center is both marketable and profitable.
Cloud / Colocation Services Sales Executive: Once the services are created and sent to market, someone needs to make sure that the space will be rented out to businesses. This is where Sales Executive come in. Sales Executives are one of the main arms of the colocation enterprise as they are responsible for filling seats and making sure the operation brings in enough business to stay afloat.
Operations Manager: Operations Managers take care of the technical components of a colocation center. Colocation centers typically guarantee maximum uptime, and these are the people that make sure the promise does not go unfulfilled. Operations Managers oversee the team that provides day-to-day technical maintenance and support in the colocation center.
Datacenter Technician: Technicians are perhaps the ones who are most immersed in the daily ins-and-outs of colocation center operations, as they are the ones responding to service tickets and fixing equipment. They work directly with hardware such as fiber optic cables and servers.
Facilities Engineer: Colocation centers have a lot of other components outside of the network, such as water pumps and treatment systems, HVAC, generators, UPS, electrical distribution and network monitoring systems. Facilities Engineers provide the equipment that keeps the network healthy.
Systems Administrator: Systems Administrators typically install, configure and fix computer networks for end-users. These administrators are responsible for service delivery and applications that are based off-site. They typically take an active role in managing network processes for customers.
For more information about how J. Patrick and Associates, a firm specializing in data center and IT firm recruiting, can help you find quality and qualified colocation experts to fortify your team, click here. If you are an experienced industry professional with a strong track record of success as well as technical depth and innate business savvy, contact us today.