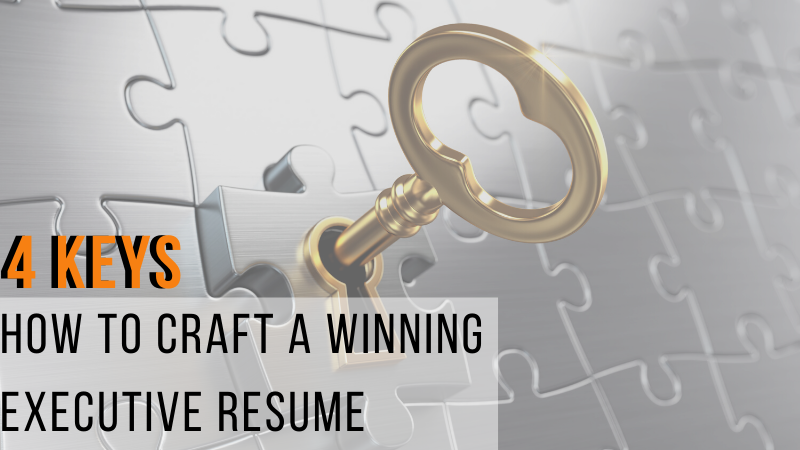 Employment for life is increasingly a thing of the past – even at the executive levels, according to a study recently published in the Harvard Business Review. Executives are switching jobs more frequently – on average every four to five years.
If you're looking to take the next step in your executive leadership career, here are some guidelines and keys to crafting a winning executive resume that'll make you stand out as a candidate, whether you're in the public, private or non-profit sector.
1. Who
Rather than beginning your resume with an objective, use a title – for example, as outlined in this Chief Operations Officer resume sample. You can also include a brief elevator style pitch below that, succinctly outlining why a company should hire you. This should serve as a compelling positioning statement that sets the stage for the rest of your resume.
According to the study, while elite schools still hold sway at the top levels, the majority of corporate executives today went to public universities. Whatever your education background, your qualifications are important and degrees earned should be included along with any other relevant professional certifications. Space on your resume is valuable, so ensure any qualifications you choose to include pertain closely to your roles and competencies.
2. What
It's helpful for someone viewing your resume for the first time to be able to see where your expertise lies. When addressing relevant topical items in your resume, under a Core Competency Section as shown in these executive resume samples, you fulfill the keyword optimization required by humans reading your document and resume databases digesting your document.
Provide an overview of the areas you have experience in (finance, operations, sales, marketing), what kinds of industries you've been exposed to (consulting, manufacturing, food and beverage, consumer goods) and what levels of responsibility you've held. This will provide context for your achievements and core strengths.
3. Where
Following on from the last point, explain (briefly) what each organization did and put it into perspective. Was it publicly or privately held? Regional, national or global? What markets and regions did you work within? It may be helpful to describe the size of the workforce or the company's annual revenue. Don't assume everyone is familiar with individual companies or even the industries. Outlining how to effectively define size and scope when describing current and previous employers is shown on this VP-Medical Affairs Executive Resume Sample.
4. How
Particularly at the executive level, demonstrating performance is crucial. Let your accomplishments speak for themselves. Provide evidence through specific examples – what you achieved, when, and where – that will also implicitly communicate your mastery of your profession.
Sales success is easy to quantify, but other functions might not translate as easily to numbers. You may be able to point to cost savings you achieved, processes that you made more efficient, productivity increases, projects delivered on time and on budget, or other initiatives successfully deployed. Use active verbs that reflect your role in each, such as 'spearheaded' and don't waste time with generic and empty adjectives.
Here are some other questions to ask yourself when building your executive resume:
How have you been involved in setting a vision and carrying out strategy for organizations? How have you used 'big picture' thinking to initiate change?

Have you hired, fired and built teams? What about personal development – have you mentored more junior employees?

Have you been responsible for budgets, fundraising, high level negotiations or other financial matters?

Have you been involved in any mergers or acquisitions, or other major business initiatives you can point to?

What kinds of business relationships do you have and at what level? How do you deal with stakeholders, clients, and suppliers? Do you have a valuable network of contacts?

What kind of experience do you have with public speaking, writing or giving presentations? How have you represented your organization to the community and the wider public?
Following the who, when, where and how model of crafting specific details in your executive resume will ensure hiring managers will see how you can add value and make a difference in how soon you land that interview.
Written by Lisa Rangel, Executive Resume Writer
---