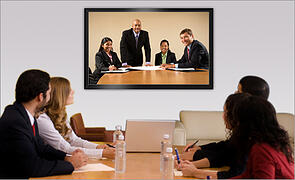 Videoconferencing as a collaboration tool is spreading like wildfire across the business world. This solution, primarily when it is in the cloud, helps professionals work together in real-time over the Web—and it's becoming increasingly secure and robust.
Just how popular is videoconferencing? Marketing data aggregated from several industry sources suggests that videoconferencing will soon replace standard conference calls and become the preferred method of office communications.
As a result, cloud-based videoconferencing companies such as InterCall, Tely Labs, Global Crossing, Blue Jeans Network, Kaltura and Arkadin are emerging as leaders in this space. These organizations provide essential features such as Collaboration-as-a-Service (CaaS), virtual environments and videoconferencing platforms. Customers can use these companies to gain a variety of services at affordable prices.
Since many of their key targets now require HD videoconferencing, which uses much more bandwidth, videoconferencing providers are struggling to keep up with demand. Although numerous small video conferencing providers have ideal solutions, they lack the bandwidth to provide this high level of service to their customers. For this reason, the industry is rife with mergers and acquisitions; many small providers are being picked up by larger companies that want to work their solutions into existing service offerings. These companies have the infrastructure and capacity to support the demand for customer growth.
Many of these larger companies are looking for IT professionals with the infrastructure expertise needed to complete and manage audiovisual (AV) and teleconferencing deployments. They also need experts to sell the services once the technology is integrated. Leveraging an extensive database evolved over two decades in business, J. Patrick & Associates can provide your company with qualified, hand-selected professionals who possess proven expertise in the areas of unified communications, AV installation and integration, AV design engineering, and more. At J. Patrick & Associates, we have placed thousands of sales engineering professionals and back-office engineers needed to manage all facets of videoconferencing operations all across North America, including:
• Sales Executives for AV Integration and Conferencing & Collaboration;
• National Sales Directors for AV Integration;
• General Managers for AV Integration;
• Sales Engineers for Video Encoders;
• Field Engineers for Videoconferencing;
• Technical Assistance Managers;
• VTC On-Site Technicians
• And many more!
For more information about how JP+A can help with your company's AV /
videoconferencing staffing needs, click here.