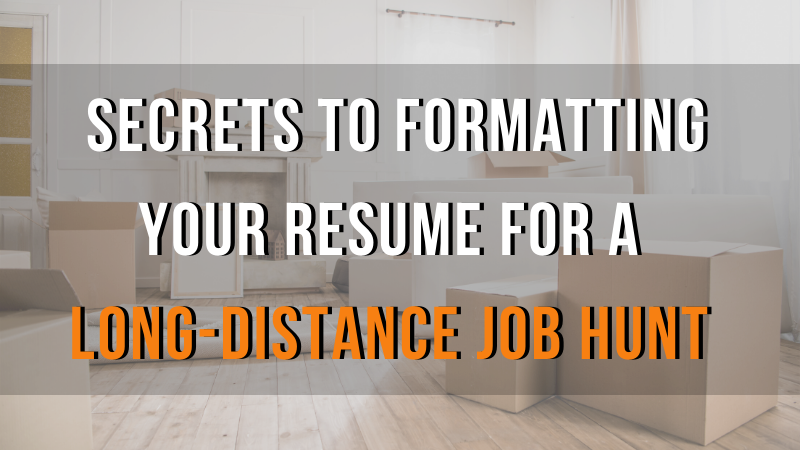 While most people cannot succeed in a job hunt that would require relocation, the good news is that executives have an edge: good executives are hard to come by.
As a result, long distance recruiters may be willing to hear you out if you present yourself properly. Use the tips below to improve your long-distance resume.
Follow these useful tips to improve your long-distance resume
Have a local address.
Having a local address on your resume shows the recruiter your commitment to move. You can use a friend or family address as your temporary location. Another option to consider is using a PO Box located within the targeted location—but then use the physical address where the PO Box is located as your address, when you need to list one, with PO Box as a suite number or apartment number.
If that's not possible, then just list the city you are targeting at the top of your resume, at the minimum. Your primary objective here is letting the recruiter know you're moving no matter what or give the initial impression that you are already in that location—you can explain when you get the interview phone call what the situation is.
Present yourself as an expert—don't change careers at the same time.
Most people rely on communicating their task expertise when doing a long-distance job hunt. The result is they get nowhere. Additionally, when doing a long-distance job search, now is not the time to do a career change, as well. Capitalize on your current skill set to make the move, then once you move, change your profession/industry.
If you want a company in another city or state to consider y
our candidacy you must outline why it is worth their time to consider hiring someone outside of the local workforce. The way to do this is by presenting yourself as an expert who specializes in a certain skill by showcasing achievements.
The idea behind being specialized is that you are very good at a specific thing, which the accomplishment history to prove it. You can start by figuring out what it is you don't do. For example, if you're a Chief Financial Officer, such you should focus on the unique financial triumphs on your resume.
There is one caveat. We're living in a time when careers are constantly changing. Consequently you must make sure your specialization is still in high demand in that area, which can be a little difficult to figure out. For a great example of how to specialize in any situation you can actually read about how the funeral industry constantly has to specialize in new things in order to survive. An extreme example, yes…but you get the idea…everyone has to do this to get traction.
Mention your commitment to relocate in the cover letter.
Once again, you must show the recruiter that you are committed to the move regardless of whether or not you get the job. Therefore saying something like "Open to Relocation" is not going to cut it. Instead say something like "I am relocating to your area on March 15th at which point I will be available for an interview."
This would also be a good time to mention reasons for moving that have nothing to do with the job such as family or moving back to your hometown. This will at least have the recruiter think that you are actually going to move.
Tailor your resume to meet the immediate needs of the position.
As a candidate looking to relocate you will run into a challenge when competing with local easily accessible candidates. You can combat this by making sure your resume is specifically tailored for the role.
Read the job description carefully, pick out keywords and craft a resume that meets all of the requirements. Remember to use specific examples for the best results.
Written by Lisa Rangel, Executive Resume Writer
---