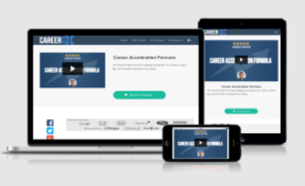 When I was working as a search firm recruiter, I was always asking myself, "How do I get promoted more quickly?" And when I was working as a search firm recruiter, candidates were always asking me, "How can I land the next level position? How do I get promoted?" It always had me wondering and observing, why is it that some people get ahead fast while others fail to progress their careers for years?

My simple motto always was, "Do the job you want, then you get it." While this mantra worked well for me in my search firm industry, it did not work so easily when I was in corporate. There was never a good, consistent answer to these questions beyond the occasional personal mottos. Everyone around me seemed to have had some idea about how to advance career fast, but no one has really cracked it. That is until the last year when I met Bozi Dar and learned about his program called Career Acceleration Formula.

Who is Bozi? Bozi is a senior executive in a major Fortune 500 company who figured out a specific formula that helped him achieve staggering success and get promoted 6 times in 6 years, increasing his salary 15 times. Over the years, he's been mentoring other ambitious professionals so they can achieve predictable career success as well, until he refined his approach into a 6-step formula he teaches today.

I had a chance to meet Bozi and speak with him over the phone and apart from witnessing his zest to help others advance their careers, I also realized that he has an incredible talent of seeing the success patterns where others see complexity, as well as an ability to turn these patterns into action and get results fast.

Today I'd like to share with you my personal review of the Career Acceleration Formula.

First, what is Career Acceleration Formula? It is a 6-module online video training, containing 36 short and actionable videos as well as specific worksheets and action steps. All you need to do is set aside some quiet time (best is to cover one module per week, so you have some time to process the learnings and implement the action steps), turn on your mobile, iPad or laptop, start a training and follow Bozi's guidance.

Here is what you can find inside each module:

Module #1: Developing a Winning Mindset. Bozi gives a beautiful metaphor on the importance of mindset. Mindset is everything that's going on in our "invisible world" (in other words, in our head) and it is formed of your thoughts, values, emotions and beliefs. Everything in this "invisible world" dictates what we do in the "visible world", which is our actions. This also means that in order to advance your career fast, the first place to look and see what's stopping you is your "invisible world". Inside the Career Acceleration Formula, Bozi shares eight most common mindset blockers that, when addressed, can unlock the potential for your career success. My favourite one is "You are the product", where he explains how and why you are viewed by the company you work for (and any other company) as a product and how you can leverage that knowledge to make yourself irreplaceable in your company and your industry.

Module #2: How to Find the Perfect Next Job. In this module, Bozi takes you through a detailed, step-by-step process in order to give you clarity on your perfect next job. Most people choose their job based on how it looks on their CV, completely missing the point. Perfect job, as Bozi explains inside the training, is the one that is in the right place/unit (typically high-growth or turn-around), that leverages your strengths and competitive advantage and finally feels good to you (that's where intuition comes in). He even shows you innovative ways to test your assumptions and get 100% clarity on what your perfect next job should be. The process he developed for this module takes some work, but is easy to follow and will give you a piece of mind on your next career step.

Module #3: One Big Thing. Bozi defines "One Big Thing" as a unique project/initiative that you will choose to relentlessly focus on starting from today, get known for it inside the organization and which in return, will take you to your next job promotion. This also means that you will consciously deprioritize other, less important projects and learn how to negotiate time for One Big Thing with your boss. This goes against what most people do to advance their careers! Most people work hard and work on as many projects as possible, hoping that one of them will get them to the next level. One Big Thing is one of the most effective career advancement strategies I've seen in a while. At the same time, it is a very counterintuitive strategy and that is why Bozi gives a very specific guidance on how to identify your One Big Thing, then create a daily action plan to execute it, and finally how to name it, brand it, and talk about it for success. Here (as in many other places), the devil is in the details.

Module #4: Make Your Boss Work For You. When I originally saw the title of the module, I was puzzled – make my boss work for me?! After all, most people have problems getting their boss to even talk about the career advancement topic. However, after the first few lessons it became clear what Bozi means by that. Basically, if you have a clear boss management strategy, you will get to a point where your boss is actively working to get you a new job promotion. What's even more interesting, Bozi developed a 4-step process that you can use to gently move your boss from one level of endorsement to the next one, gradually helping you get the next level job. I've never seen anyone in career space develop a process like this and I learned from Bozi that many of his students experience major career shifts just from applying this module alone.

Module #5: Grow Into You 2.0. This module is all about making sure that you are successful in your next job before you even start working there. For example, most people meet their hiring manager (who is actually their potential future boss) during the job interview. This is not optimal as it can be seen as cold-selling. Inside this module Bozi teaches you how to get in front of hiring manager way before the interview, demonstrate that you've got what it takes to get promoted and then turn the interview into a mere formality. Furthermore, he teaches you how to identify one skill/competency that you need for the next level job and how to develop it in the most natural (and accelerated) way. Finally, inside this module you will learn about one of the best kept secrets of fast-track executives which is how to access the "hidden job market" (according to the latest research, 85% of executive jobs are never publicly announced).

Module #6: How to Become The Key Person of Influence. Just when I thought that Career Acceleration Formula is a truly innovative, action packed training that delivers incredible value, and that the first five modules are already more than enough to get you promoted, I got surprised. In module 6, Bozi delivers brilliant strategies on how to get away from office politics, become a master of ethical influencing, network like a true pro and finally how to build influence outside of the walls of your company. True to his style, he demystifies each of the components and then shows you exactly how to do this in the context of job promotion. This module alone is worth the price of the whole training.

Finally, is there anything to improve inside Career Acceleration Formula? There is, actually two things.

First, it would be good to have some sort of a guidance on how to handle the job promotion interview. Bozi often says that for the students who follow the formula, the job promotion interview is a formality, however in my opinion, having guidance on this topic would make the training even more complete. I shared this feedback with Bozi and last time we talked he told me that he partnered with one of the top experts on this topic and has developed an extra chapter/bonus.

Second, I believe it would be very useful for students of Career Acceleration Formula to have some face-time with Bozi (or Skype time) and get exposed to his strategies directly from him. I know that this is challenging due to time constraints but hearing him teach live and being able to get your questions answered is an experience on its own.

That's basically it, my full review of Career Acceleration Formula!

In a nutshell, if you are currently stuck in a job with no future, want to land a job promotion fast and learn insider secrets on how to predictably and consistently advance your career, than Career Acceleration Formula is for you. Bozi has been there, done that, cracked the career success formula and has figured out the way to make it work fast for everyone else. Click here to learn more about Bozi's strategies.

Yours truly,
Lisa Rangel

P.S. I know from Bozi that the price of Career Acceleration Formula has been steadily going up since the launch last year (no wonder, as people get huge return on investment from this training) so if you are the right candidate for this training, I would suggest you hurry up and get on one of his introductory trainings as soon as possible http://chamres.com/Bozi-b. And yes, this is an affiliate link, but I rarely endorse other's products and services and only do so when I have gone through it and know the information and training is solid.