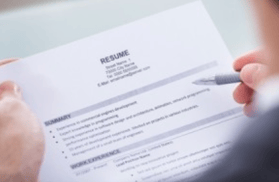 As with most tactical executive resume development questions, the question "How Far Back Should I Go On My Executive Resume?" is no exception in receiving the "It depends" answer. However, these are the X guidelines we use in making decisions on how much do we include and how far do we go back on resumes for executive-level clients with 15 to 35 years of work experience.
Generally speaking, we recommend focusing on the most recent 15 years of work experience, but this answer can vary based on each person. The nature of the experience, and the various forms it can take, when compared to the target positions is the main factor in determining if we will consider using the earlier information on a resume:
(1) Pedigree of the Organization Pertaining to the Profession: If the executive job seeker is a CFO with a CPA credential, and the earlier experience is working at Coopers & Lybrand in 1990, then we have left it on for someone with this background. The reason for this decision is the caliber of this company, that has since been merged with Price Waterhouse in 1998 to form PriceWaterhouseCoopers, shows the fine caliber of training and professional development the CFO has had in his/her career. If the caliber of earlier employment is not impressive or communicating quality training, it may be best to be left off the resume.
(2) Pioneering Status of the Company Pertaining to the Industry: A leading digital entertainment/media executive may have started their career in the advertising department of MTV.com in the early 1980's combined with always working for pioneering firms in the marketing, entertainment and digital spaces. Mentioning the start in MTV in a "Prior Experience" section can punctuate this person's reputation as a consistent thought leader in these industries. If the job seeker has not maintained working for pioneering organizations, it may be best to leave off the early information, as it may unnecessarily date the candidate.
(3) Proof of Desirable Traits throughout Career: This part is particularly essential for career changes, but anyone can really benefit from this if it is relevant. Starting out in my career, I graduated from The Cornell Hotel School and went on to work for the premier hotel chains, Four Seasons Hotels and Pebble Beach Company. What does that have to do with recruiting, resume writing and job search coaching? Well, directly? Not much…but I have been hired by staffing firms and currently by clients who see that I have a high-caliber service background that they believe will be carried through in all of my pursuits (and they are right). This top quality and service mentality is something that is pervasive in everything I decide to do. When job seekers have experience that demonstrates these desirable traits by the organizations that hired them and experiences they have had, and it is relevant to a career change or promotion, we can decide to include earlier experiences that show this pattern.
(4) Industry or Profession Dictate Best Practice: Some industries, such as healthcare, value their executives to have more experience than less, so we go back to college graduation, no matter how far back it is. While advertising industries can value the new experiences, so we focus on the most recent accomplishments in the document. Based on the candidates target job prospects, we look at what will be most relevant and helpful to showcase what is valued by that industry and profession.
Written by Lisa Rangel, Executive Resume Writer