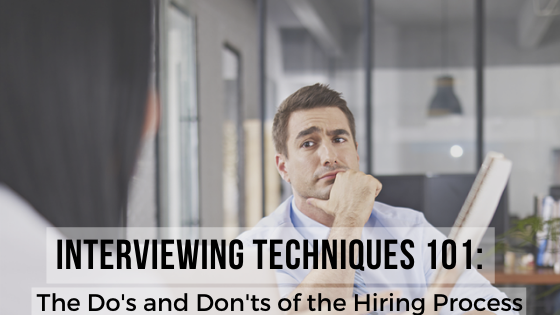 Let's face it, for the seasoned hiring manager, the hiring process can become repetitive and mundane. It's very easy to fall into a routine and treat the hiring process more like a conveyor belt than an individualized process. Remember, what gives your company vitality are the employees, sprucing up your interview techniques ensures that you're hiring only the best.
When was the last time you freshened up your interview skills?
Interview Techniques: The Do's and Don'ts of the hiring process
Don't: Ask Questions You Already Know the Answers To
Why waste precious time listening to the candidate repeat the same information that you already know from their resume? If there are any holes or gaps in their resume and/or work history or even if you want to make sure that the candidate isn't lying, it is okay to ask such questions. But, use the interview as the time to get to know the individual behind the paper. Perhaps the candidate's end goal is to become the VP of Finance, who knows what you'll find out!
Do: Ask What You Don't Know
The interview is your opportunity to get to know the candidate beyond their resume. It allows you to gauge the candidate's personality to determine if they are a good fit for the organization. Make sure to ask questions that provide you with the information you need to determine if the candidate is qualified for the position. This can be done by determining the specific personality traits or characteristics, such as leadership qualities, desired for the position and tailoring questions for the interview.
Don't: Make Assumptions
As an experienced hiring manager, you may be able to tell the type of person a candidate may be from their resume. But, even if you are correct 9 times out of 10, remember the old saying. "don't judge a book by it's cover." It's essential to keep an open mind when interviewing candidates and allow the interview to be their opportunity to show who they are and what they can bring to the table.
Do: Be Aware of Your Body Language
Just as you're picking up on candidates' nonverbal cues to assess everything from their level of interest to their authenticity, your candidates are doing the same thing to you. As the interviewer, you have a direct impact on candidates' impressions of the company, so it is important to be mindful of the nonverbal cues that you are sending. Cues such as drumming your fingers on your desk, shaking your foot, or even leaning back in your chair can create a negative impression during the interview.
DON'T: Ask Candidates the Same Question
It is very easy to ask the same set of questions in every interview. But, every candidate brings something different to the table, your goal is to find out what makes them special. Asking stock questions, like "what do you consider your greatest strength," is likely to get you stock answers. By digging deeper and tailoring your questions to the individual will not only be refreshing for the candidates but will allow you to get a true sense of who they are.
DO: Follow Up After the Interview
This may seem like one of the most fundamental, basic aspects of the hiring process, but you'd be surprised how many hiring managers don't follow up with candidates after an interview! If you give candidates a certain time frame for calling or e-mailing them, please follow through on your word. It's imperative that you keep the promises you make to candidates, even if it means conveying less-than-pleasant news. Not following through leaves a bad impression of both you and your company. Candidates appreciate any effort to keep them informed.
As a trained professional, it is important to spruce up your skills every once in awhile to ensure that your skills don't get lost in translation.
---