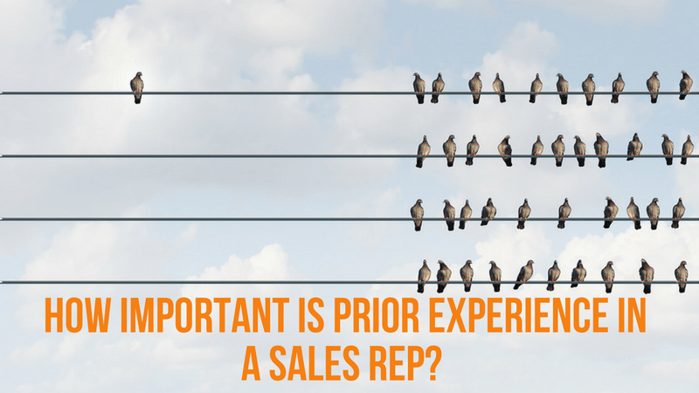 In sales, like in most sectors, the prevailing wisdom is that experience, appropriate training and credentials are the three most important things to look for in a new hire. (for more on best practices for a new hire, read here) But just because wisdom has prevailed, does that make it right?
Let's dive deeper and discuss if prior sales experience is really the most important thing to look for when recruiting sales Reps.
What Does Prior Experience Look Like?
When tasked with filling an open desk on their team, many hiring managers do what they were trained to do: they open up the playbook and run down a list of qualifications
Knowledge of, and experience in, selling in the sector

Robust customer base

Sales methodology

Sales assessments

Psychometric analysis
While all of these are important metrics to consider, they simply don't represent the whole picture. Regardless of prior training or experience, all great salespeople embody the following traits:
Good Listener
First and foremost, salespeople are educators. Their primary goal is to find out their customer's pain points than to instill faith and confidence that they can help find a solution. And the only way to achieve these goals is to be a good listener, to have the patience and agility of mind to listen for real needs.
You'll find those good listeners are hard to come by and that not all sales reps have the ability to drill down and help prospects articulate their true pain points. Part therapist and part guide, people with this kind of talent are primed for a successful career in sales.
Flexible
Speaking of agility, sales requires the ability to shift gears mid-stream. If a pitch isn't going in the anticipated direction after 2 minutes or so, the successful salesperson knows they have to try another way around. Not everyone has the ability to think fast or know how to read a situation well enough to know what is called for. This is a particular kind of talent, and if you can find it in a candidate with little or no prior experience, you'd be smart to grab them and train them up.
Conscientious
If sales require one thing, it's diligence. Successful sales reps are people who know that taking pride in their work, as well as finding a way to stay organized and efficient paves the path to success. It's a hard knock life, but they know that rewards are waiting on the other end.
Again, this isn't a character trait you can teach -- some people have it, and some don't. All the training in a specific sales methodology can't replace passion and drive.
Initiator
Someone who is self-motivated and able to take matters into their own hands is a natural born salesperson. If there's a job to be done, they are going to find the way to do it. If there is a problem they will keep digging until they find a solution. And when they encounter road-blocks, they are able to give themselves the much-needed pat on the back to keep moving forward.
Imagine if your entire sales team was this motivated? Well, they can be, especially if you are willing to look past prior experience when interviewing.
Persistent
Resilience is born of experience. You want candidates who have encountered disappointments, but who have been able to move forward and find a new way through. And once again, those experiences don't necessarily have to have been in your sector, or even in sales. What matters here is the innate ability to recover from disappointment, and negotiate obstacles. You might call it a thick skin, but what it really is a strong belief that there is always another way to solve a problem.
Coachable
Sales require agility of thinking, and the ability to pivot when a pitch isn't working. A sales rep who is too invested in "how it should be done" or is married to a particular sales methodology is someone who's had the ability to think on their feet trained out of them. You want sales reps on your team who are open to new ways of doing things, and who are able to implement creative solutions. Just as nothing in sales is ever done until it's done, your team's mindsets must remain flexible and open.
Thinking beyond past experience and metrics can lead you to some of the best prospects for your sales team -- keep your eyes and mind open to look for those candidates who, while they may not have the experience you're looking for, have the heart and soul of a salesperson.
Related Blog:
TO HIRE THE RIGHT CANDIDATE, YOU NEED TO DO THIS FIRST