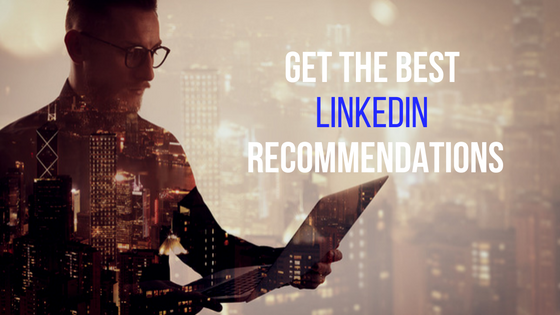 We often think our first opportunity to make a good impression is during the pre-screen phone call, or when we walk into the office for an interview. But the truth is, employers, recruiters, even customers are checking us out online long before the point of the first contact. Your LinkedIn profile very well may be optimized and vibrant, but people are looking for social proof that what you say about yourself is true.
Just like the restaurant in Duluth that claims to make the best pizza needs reviews on Yelp to validate and support their claims, you need recommendations to bolster and shine your reputation.
Methods for Acquiring the Best LinkedIn Recommendations
Follow these steps to request LinkedIn recommendations:
From your LinkedIn profile, hover over View Profile As

Choose Get Recommendations

Choose What Do You Want To Be Recommended For from the drop-down

Choose Who Do You Want To Ask from your contacts.
You can choose up to 3 contacts at a time, but I'd caution you against it. Personalize your request and avoid the automated asks.
Choose Wisely
Endorsements on LinkedIn are the equivalent of a thumbs up on your profile. They're a friendly way of saying, 'yes this person does what they say they do.' But they don't carry much weight. So while you might collect endorsements from anyone who clicks an automated prompt, recommendations are a different animal and need to be well considered.
Ask people who know you well, who've been in the trenches with you and have seen you shine. Someone who has seen you step up in a crisis, sat on a committee you led or co-managed a project with you, is best equipped to speak to your strengths.
Bonus Points: Recommendations also show up on the profile of the recommender as searchable text, thereby further increasing your social currency.
Be Specific In Your Ask
Once you've identified who to ask, now you need to get specific. While you can use the LinkedIn tool to make contact, we'd recommend that you write a separate email. There's a better chance of your request being seen via direct mail, than through LinkedIn, and you want to avoid generating several asks.
When composing your note, know that a generalized "will you write me a recommendation" will, at best, garner you a generalized note, leaving you with an enthusiastic, yet horribly generalized recommendation. While well-intentioned, these kinds of recommendations leave you sounding the Manchurian Candidate: "Raymond Shaw is the kindest, bravest, warmest, most wonderful human being I've ever known in my life." A faceless, non-specific "great" guy.
Remind your recommender of a specific problem you solved for them, or the time you took the lead on a particularly difficult project. Giving them guidance on what skills or traits you are looking to be recommended for will help them craft a more meaningful letter.
Pro-Tip: Recommenders must be a 1st degree LinkedIn connection for their words to carry the weight you need them to.
Variety Is The Spice of LinkedIn
You want the recommendations to reflect the breadth of your career, so ask an equally wide variety of people in different capacities. Think about former managers, colleagues, customers, project teammates, and yes C-level executives. While C-level executives are valuable recommenders, though leaders can be just as powerful. Be certain to also consider contacts outside of work, perhaps people who have done service with you in the community or other volunteer work. You want to present the well-rounded person you are, so make sure to cover your work life from all angles.
Give Thanks
While your contacts may be more than happy to take the time to write about you, it is time out of their day. Once you've received the recommendation, and seen it go live, take the time to write to your contacts to thank them. An email is lovely, but a handwritten note is even better. And always offer to return the favor. Not everyone is comfortable asking for other people's time, so make it easy for them to get a piece of yours. And always be certain to act in a timely manner -- don't wait for 3 weeks to pass before extending your gratitude.
When you get the right kinds of recommendations from the right kinds of people, you're well on your way to providing that all-important social proof and enhancing your online brand.
---