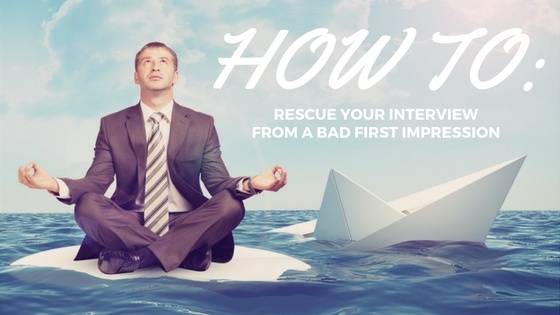 A poor first impression doesn't have to lead to a bad interview
First impressions matter. In fact, they're more powerful than facts. Research has shown that we form our most lasting impressions of someone within the first 5 seconds of meeting them and that we rarely change these initial ideas even in the face of hard evidence.
5 seconds...
That's hardly enough time to walk in the door of an interview and take your seat, let alone make a strong case why you're the best candidate for the job. But, it is enough time to blow an interview. Stumbling over a bump in the carpet, offering up a weak handshake, poor eye contact, or misjudging your wardrobe can all cost you dearly.
Prevailing wisdom dictates that it takes at least 8 positive interactions to overcome a bad first impression. And while that may sound insurmountable, the good news is there are some steps you can take to hit the reset button and reverse your losses.
6 Ways you can Reverse a Bad Interview:
1. Take a Cue from the Performers
Think back to the last time you were watching a live performance and a dancer slipped, or an actor flubbed their lines. The dancer who seamlessly continues on with the choreography or the actor who allows the gaffe play in their favor often winds up as audience favorites. It's the ones who pull a face or get so flustered they can't find their place that loses the audience's favor - something no amount of raw talent can make up for.
Handling small mistakes with grace goes a long way to mitigate their potential damage. Allow yourself a brief moment to recover, make a joke or offer a polite apology appropriately. What is important is to dust yourself off and get back to the business at hand. You're there for a reason - to get the job - now is the time to focus on that.
2. Remain Positive
Running yourself down or trying to overcompensate with ongoing apologies will only serve to highlight your flaws. Unless you've been summarily dismissed from the job interview, you still have the opportunity to turn things around. It's important that you turn your attention from yourself and your embarrassment and toward your interviewer.
Demonstrating that you are flexible and can bounce back from setbacks is attractive to potential employers- use this as an opportunity to demonstrate your resilience.
3. Pivot
Now is the time to return the full force of your focus to the interview. Leave the mistakes behind and communicate in an open, expressive manner. Let the interviewer see who you are and your core competencies. Shine a light on what you bring to the company and try to help them see you in a new.
A word of caution: Don't push. Overcompensating will only serve to further alienate yourself and could do even greater damage than the original slip-up.
4. Find Common Ground
Even a bad first impression can be softened if you and the other person share something in common. It is more difficult to affirm the negative ideas we formed when confronted by similarities. If you and your interviewer share a point of view or interest, they are less likely to hold their initial reaction against you.
5. Close Strong
Just as first impressions are important, the end of an interview can have a long term effect. Leave the interviewer with positive things to remember you by. Arriving prepared, having done your homework and presenting your interviewer with well-considered solutions can help stem the tide that was flowing against you. There's no reason to allow a poor beginning to set the tone for the entire interview- you've come to sell yourself, don't sell yourself short.
6. Let it Be
There are also those things that are outside of your control. All that you can do it make certain that you are professional, and have communicated the value you bring to any position clearly. Focus on the things that are in your control and let the blunders and mistakes be your teachers for future job interviews. After all, if you chose to wear grey shoes to an interview and the hiring manager absolutely detests grey shoes, there's nothing you can do about it.
---
J. Patrick & Associates, Inc is an Executive Recruiting firm that focuses on Executive Management, Sales, Marketing and Technical roles within Information Technology markets. We have over 20 years of experience recruiting in every aspect of AV/VTC/UC, Application, Storage, Information/Network Security, Mobile Technologies and Telecommunications.