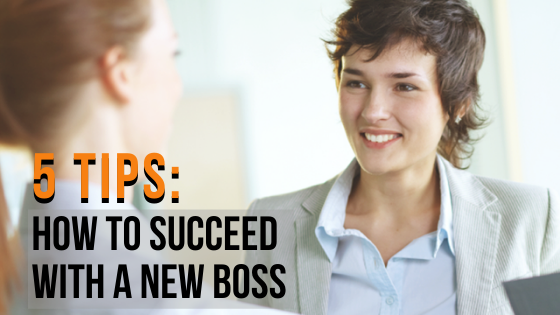 Change. It's the only constant, especially in business. Co-workers come and go during your career, and so do bosses. And while it can be unsettling to have to adjust your work routine, rhythms and style to a new supervisor, it is, almost all too often these days, a necessary evil you very well may have to face.
But rather than seeing it as an unnerving disruption that must be muddled through, try to look at it as an opportunity for growth and possible advancement. However, in order to do that, you must handle the transition well.
Here are 5 ways to help smooth the transition with a new boss.
1. Make An Appointment
Within a few days of your new supervisor's arrival, book a short meeting with them; 10-15 minutes. Treat this meeting like a sales call, or an interview. Your goal is to find out who they are, how they like to work and how you can best be of help. Find out their priorities and adjust your mindset to match.
Mind you, this is not the time to suck up or jockey for position, but rather to get some of the essential facts in place. How do they prefer to communicate: email, IM, face-to-face? Are they looking for in-depth weekly reports, or on the fly updates? Letting them know you are willing to be flexible and work their way will help get the relationship off on the right foot.
2. Expect Change
Yup, it's a constant...
You're accustomed to your department running one way, and it's tempting to think that it's the only way it should be done. But when your old boss left, they took their procedures and processes with them. Don't assume that things will continue to run the same way, and don't cling to the past. You may not initially understand or appreciate your new boss's way of working, but you have to be patient. Watch, listen and trust - there's always another way to do things. Just because things have been done one way for as long as you can remember, doesn't mean it's the best way.
3. Share Your Knowledge
Remember; you might be facing changes in your department, but your new boss is facing a new job. Whether they came into this position through a promotion or as an outside hire, they have new responsibilities and a new boss of their own. They're looking to establish themselves, and your job should be to aid them in getting them up to speed so they can get her priorities into action. Showing yourself to be a team player sends a powerful message, and puts you in a position for advancement further down the road.
4. Bring Solutions
Get your ideas on the table. Let your new supervisor know about your current projects and those that you'd like to get off the ground. While you can mention prior successes, old wins are history, all that matters now is how you can help the department move forward and grow.
Remember, this is not the time to look for personal advancement. Your job is to help the team, not yourself.
5. Plan for Problems
Even if you and the new boss hit it off from day one, there will be problems. Repeat that: There will be problems. But you want to make certain that molehills don't have the chance to grow into anything larger, be proactive in reaching out to your new boss. Ask for weekly or bi-weekly check-ins that match their style. You don't ever want to let assumptions take the place of open communication, especially in a relationship as important as this.
At the end of the day, your boss is the gatekeeper for future advancement. They can help you get where you want to go, or they can see to it that you fail. By helping them succeed in their new role, you're investing in both a productive partnership as well as your own long-term goals.
Embrace the change!
---