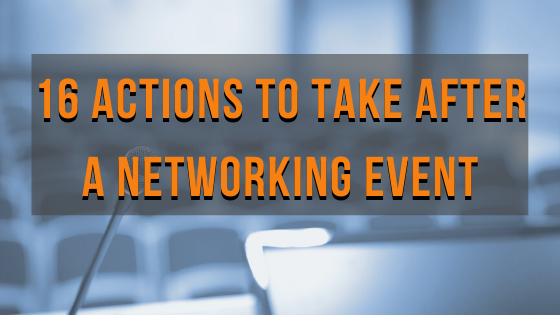 Let me ask you: Have you ever attended a networking event, met a new contact, enjoyed a really interesting conversation, exchanged business cards or contact information, and then… never followed through with reaching out to them after-the-fact, despite your best intentions? Is that you? Whether you are seeking a new job opportunity, career advancement, or growing a business, intentional and effective networking follow-up will help you succeed.
According to a study done by ICims, more than 27% of external hires in America are from referrals. In fact, it's the top external source of hires today.
According to the New York Times, 65% of new business comes from referrals. A Nielsen Study cited clients are four times more likely to buy when being referred from someone they know and trust.
So we know why we network, but what do you do to follow up after a networking event? After all, it's what you do AFTER the event that matters, as that is where the real work begins!
16 Easy Actions to Take After a Networking Event
1) Google your new contact
You would be amazed at what you can find by Googling a person. You can find additional information to help you with reasons to connect—or to NOT connect. This info can help with all steps on this list.
2) Write down some notes
Shortly after the event – same day, if possible – make some notes on what happened, record your thoughts and create a list of actions to implement.
3) Compose an email
Write an email indicating that you enjoyed meeting them and why it makes sense to continue the connection or further the relationship.
4) Begin a dialogue
You'll want to stay in touch, if no need to meet again—start by asking them what they thought of the event via email.
5) Connect on Social Media
Send your new contact a LinkedIn invitation including a note that you enjoyed meeting at the event where you met. Follow them on Twitter, which can provide real time data to improve the content of your communication. If you see a personal connection outside of work and/or it makes sense, connect on Facebook.
6) Offer a Phone Date
Via email, suggest a 15-minute phone call, but sure to clarify the purpose of the call and how it can benefit you both to do so.
7) Even better!
Here's a novel idea… just call the person. Let them know that you enjoyed meeting them and would like to keep the conversation going. Ask if they prefer to schedule a phone chat or coffee meeting as a follow-up.
8) Meet face to face
Propose a face-to-face meeting over coffee right out of the gate with contacts that have the most potential, who interest you most, or simply where it makes sense. Show interest in what they do and who they are.
9) What NOT to do
Do not automatically add them to any email list you may have! Instead, send an email asking if they would like to join your email list since you thought, based on your conversation, the content may be of interest. Don't spam!
10) Add their info to your contact management system
A contact made today, may not bring you business today, but that person may be the resource you needed (or needed you) for a situation in the future.
11) Look to influence
See how you can introduce two people who can help each other and ask to make that introduction… it's good karma, as you are always remembered as the person who made the introduction.
12) Say 'thank you'
Thank the host of the event. This is a great way to start a connection that you did not have before.
13) Reach out within two days
Ideally, make contact within 48 hours, but don't fail to reach out if it is later than that time frame. I have reached out 6 months after the initial meeting and have it turn out well—but this is not recommended at all!!
14) Seek out influence
Look for people who can influence your business or job search—not just give you business or hire you. Influencers are more impactful than direct clients or hiring managers, since they introduce many opportunities.
15) Look for collaborators
Search for collaborators and joint venture partners. The best way to grow is by collaborating with others.
16) Send them something
Sending an article or book reference in an email or snail mail, relevant to something you discussed will show that you listened to the conversation.
---