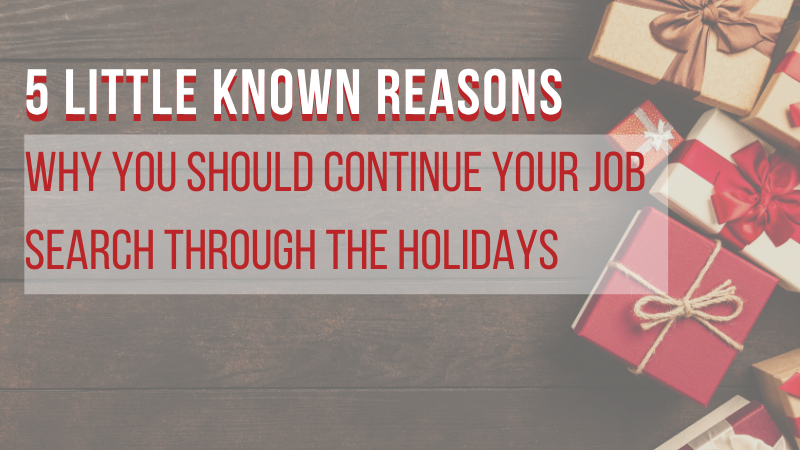 Job hunting can be a struggle. With the holidays fast approaching, you may think it is the ideal time to take a break.
You may be thinking "I'd much rather spend time with family than making phone calls and doing phone interviews. Companies aren't hiring now anyways. I'm sure it can wait until January… right?"
Wrong!
By taking a break during the holiday season, you are actually missing out on an opportune time to find your dream job.
Here are 5 reasons why you should continue your job search through the holidays
1. There is still business to be done
When many of us think about the holidays, we think of putting on cozy socks, sitting around the fireplace, and drinking eggnog. The most ambitious and successful companies, however, know that there is still work to be done. They know that the ideal candidate is a dime a dozen and by sitting on the sidelines until January, they are giving their competition the opportunity to swoop in and steal their potential employees.
2. Efficient Onboarding
Often times, businesses seeking to hire during the holiday season are doing so out of necessity. Whether they've acquired new business or lost a key employee, there are business-critical roles that need to be filled and it cannot wait until the new year. If you want to expedite the hiring and onboarding process, now would be the best time to get your foot in the door.
3. Fewer candidate applications
Fewer candidates applying for open positions means you are in greater demand. It's simple economics. Furthermore, prospective employers appreciate the fact that you are a hard-worker, seeking to advance your career (while your colleagues are seeking a second helping of apple pie).
4. Networking Opportunities
It's the most wonderful time of the year… for networking.
Holiday parties and social events are the perfect time to connect with people who can help you with your job search. Plus, while business is slow, hiring managers will have plenty of time to schedule an interview
5. Have a Happy New Year
When your colleagues are frantically searching for new job opportunities in January, you will have peace of mind knowing that you already secured your future. With one less task on your New Year's resolution list, you can focus on getting back to the gym, or spending more time with your family.
---