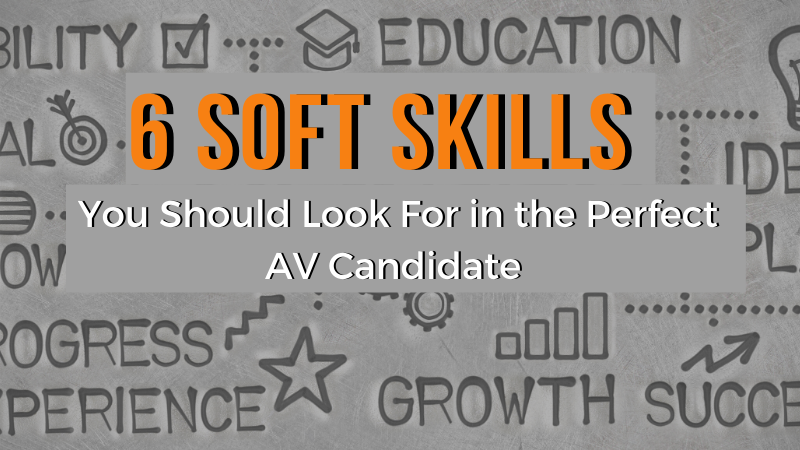 If you're a hiring manager in the Audiovisual industry, then you know how frustrating it can be to find and hire the best AV candidates.
It is important that they possess the industry-standard certifications and they have experience working on the specific types of projects that your company works on.
However, soft skills are crucially important as well, and if overlooked can lead to hiring blunder after hiring blunder; costing you and your company precious time and money.
As recruiters in the Audiovisual Industry, we understand your pain and have outlined the specific soft skills we look for when finding and placing the best AV candidates.
6 Soft Skills every AV hiring manager should look for when hiring candidates
Strong Communication
The most important soft skill hiring managers should look for from AV candidates is their ability to communicate effectively.
Effective communication between AV project managers and technicians, for example, is vital in terms of making sure the projects are done in a timely manner and up to standards. Often times, employees also need to communicate with customers to explain the project as a whole, answer any questions that arise, and address any concerns the customer may have. The ideal AV candidates make themselves reachable by phone for both customers and managers (even when they are off the clock).
After all, the purpose of AV technology is to keep people throughout different parts of the world connected. Audiovisual professionals should practice what they preach and reflect strong communication.
Time Management
Time management skills are crucial, especially in the Audiovisual industry. Your customers want their projects finished in a timely manner. Your project managers should have deadlines in place and your AV installers, and programmers need to be able to adhere to a rigid schedule.
Any signs that a potential employee may not be reliable to show up on time (like showing up late to the interview for example), should be a huge red flag. Their tardiness can delay a project and ultimately worsen the reputation of your company.
Willingness to Learn
Technology improves with time, and the Audiovisual industry is one of the fastest-growing industries within the sector. You want employees that are adaptable to change, and eager to learn the ins and outs of your company, the technology they use, and the standard industry certifications.
Continued education not only allows your employees the knowledge to make them masters of their craft but it also shows that they are truly passionate about the AV industry and would make great long-term employees
Customer Service
Even if your candidate is the best technician or control systems programmer you have ever seen, if they cannot present themselves as professionals to your customer, then they will do more harm than good.
Besides showing up on time and communicating effectively, professional AV candidates should have a professional appearance both onsite and when face to face with the customer.
Critical Thinking
The Audiovisual industry is unique in that you will never encounter two projects that are exactly the same.
Professionals in the AV industry need to be able to think on their feet. They must have patience when a project is not going according to the script, and they must also be excellent at diagnosing and troubleshooting issues on the fly.
Work Ethic
Work ethic is an important quality to possess in any industry. This is especially true in the AV industry.
If you've ever fallen behind on a project, you need a strong team willing to put in the grunt work and extra hours (sometimes days) that it takes to complete the project on schedule.
In Summary
The hiring process can be incredibly frustrating when you are evaluating the wrong credentials. Hopefully, after reading this article you are in a better position to weed out the truly reliable candidates from those who look good on paper.
---