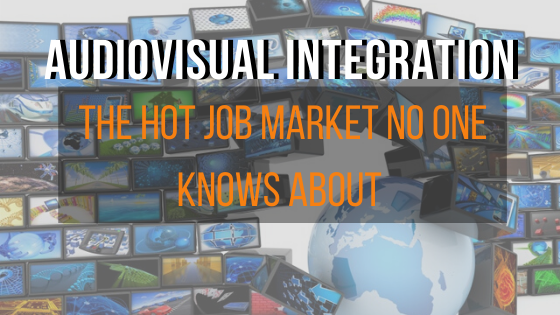 AV Integration, the seamless control of leading-edge technologies through a single interface, is helping to reinvent workplace communications. And it's one of the fastest-growing industries within the IT space.
According to InfoComm's 2014 Market Definition and Strategy Guide, the AV industry is projected to be a $119 billion global industry by the end of 2016. Established industry leaders are growing at a brisk pace even as more companies are expanding on their traditional offerings of telephone, cabling, alarm systems, and security to enter the sector. Job opportunities are plentiful, salaries are competitive and firms are willing to compromise on requirements.
So, given all these positives, why is the industry experiencing a recruitment issue?
Well, it could be because AV is not traditionally thought of as "cool" or cutting edge as traditional IT spaces. It might even evoke thoughts of that guy in High School - the one with the oversized key chain hanging from his belt loop who was always pushing the AV cart through the hallways, the weight of his responsibilities nearly as heavy as his key fob.
It could also be because not enough people know that AV has matured into a bonafide IT sector.
Let's run through a list of reasons why you should be looking into AV Integration:
Chance For Growth
Industry leaders in the integration field are eager to hire people early in their careers for a number of reasons, even as they know their ideal employees are not coming out of school pre-built for the industry. Companies understand that they have to invest in and be dedicated to training and development. What this means for you is the on-going expansion of your skill set, certifications and knowledge base. And while this makes for a satisfying experience at work, what it also does is make you a more valuable candidate further down the road.
It's Really Cool
While traditional IT spaces, such as development and cybersecurity get more heat and are thought of as more 'sexy", what they don't offer is the opportunity to build large integrated systems. Unifying video, media, communications, data, cloud, and security present exciting challenges, and as the capacity of these related fields grows, so too do the opportunities for expansion. Think of AV as the marriage between media and communications, the possibilities are endless.
Custom Work
While the rest of the IT sector is mainly focused on scalable, repeatable solutions, AV Integration takes a more custom approach. The collaboration solutions and services created for clients are unique and specialized. Like a fine craftsman, projects afford you the opportunity to learn with every build, keeping the work ever-changing and challenging.
Old Dogs, New Tricks
Due to the fact that AV Integration is currently being taught in only a handful of 4-year and 2-year college programs, companies have been relying heavily on re-training. We are seeing several of our clients in this space hiring programmers and then training them up in AV. What this means for the company is they get the benefit of an experienced worker, while the employees are benefiting from quality training and new challenges. And because of the current recruiting challenges, there is ample opportunity to move between companies.
New Initiatives, Internship Opportunities, and Certifications on the Rise
This is an industry dedicated to growth. Some, companies, such as Advanced Technologies are partnering with Universities in their area to create internship opportunities and training programs. And these are not limited to engineering and technical positions only, sales, design and finance internships are available as well.
And then there are initiatives such as The Ignite Program by NSCA, a program dedicated to making students aware of both the field of AV and the opportunities available to them in the industry.
The next several years will see an increase in certification programs from both 2-year schools, such as the Electronic Systems Technician (EST) certification from NSC, A and an increasing number of certs from InfoComm. Additionally, if the industry has its way, we'll begin to see more 4-year schools offering coursework geared toward professions in the AV space.
While some may view AV Integration as something of a vo-tech industry, the well- trained young employee has the opportunity to get right into a high paying job, build their skills for a long and diverse career, and make enough money early enough in their career to pay off those loans.
---