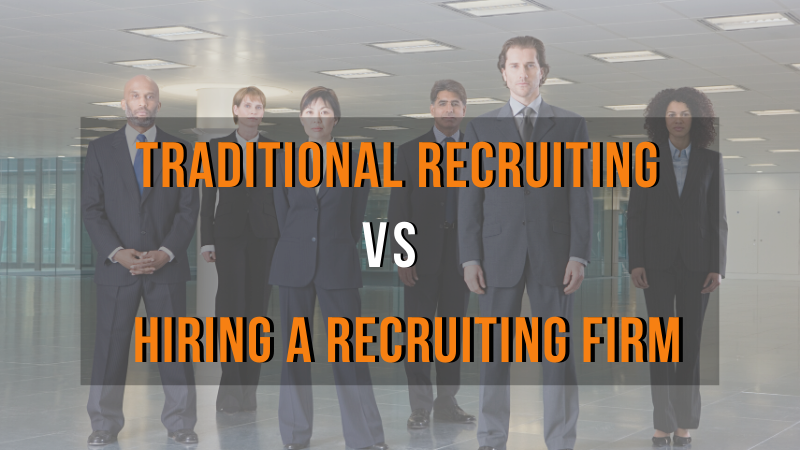 Whenever a business has to hire that new employee, they have to decide whether they should search for candidates on their own, or elicit the help of an outside agency. Traditional recruiting methods versus a recruiting firm is the typical conundrum, so why is using a firm the better option?
Finding an employee has always consisted of the traditional methods. Examples of these methods include online recruitment job boards, online ads, classifieds, and career resource sites. Online recruitment has become a HUGE influencer in the job market, websites such as monster.com, jobs.com, careerbuilder.com, and other sites have dominated the online job scene. Another traditional method is an employee referral program. This entails finding job candidates from referrals that may come from other employees, family members, friends, or anyone that can get in touch with you and influence your decision. So the question still remains, what benefit does a recruiter have over the traditional methods, and do I want to pay someone to find an employee for me?
When you decide to work with a recruiting firm to help fill your job posts you enter into a relationship with a recruiter who has a wealth of knowledge in a specific field that you are trying to hire for. Placement after placement, these recruiters have learned the industry from front to back, side to side; they know their stuff to say the least. When you choose a recruiting firm, cost effectiveness goes hand in hand. When you mention cost effective around the "head honcho" of a business their eyes light up, and visions of improved margins can quickly become a reality. Nothing triggers the "let's do it" side of the brain like saving money. Recruiters can save you money, in fact LOTS OF MONEY because they provide the right person to fit your employment needs. In other words, you don't go out and hire some person who you thought was great, who turns out to be unskilled or unstable, etc. Imagine wasting an entire first years' salary on the wrong person?…ouch. Saving time is also a benefit of choosing a recruiting firm over the traditional methods. Recruiters look through hundreds of resumes every month, this saves companies plenty of time in searching for that needle in a haystack. Once these recruiters have searched through these resumes they present only the most qualified candidates to potential employers.
Going with the traditional methods could work, but if you want that perfect fit for your position and organization, it's worth the time, effort and energy to work with a specialized recruiting firm Guaranteed it will save you time, money and unnecessary headaches.
---