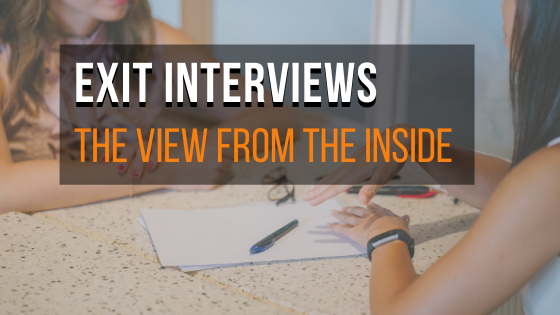 The purpose of an exit interview, according to Alexandra Levit, author of Blind Spots: The 10 Business Myths You Can't Afford to Believe on Your New Path to Success. is "to get the departing employee to divulge why they are leaving and how they feel about their experience with the company."
Exit interviews are valuable to both employers and employees, whether it be via an automated phone call, website or a good old-fashioned sit-down meeting. These interviews provide employees with the opportunity to air out all of their grievances and positive experiences at your company. But what should be asked during an exit interview?
Check these 5 questions that are crucial for your company to conduct insightful exit interviews.
Why are you leaving?
This is the most obvious, but important question to ask employees that have handed in their resignations. It allows you to determine if a single event triggered their departure, such as a falling out with a co-worker or manager. Or perhaps the position of the ex-employees lacked key aspects, which should be resolved before hiring a replacement. Either way, this question is crucial to receive feedback from an ex-employee.
How did the position match your expectations?
A key determinant to understanding your employee's departure is to determine if the position met their expectations. You want to know if, in practice, the position was what was presented in the job description. Or perhaps the ex-employee felt that there was no correlation between their position and the company's strategy. Brilliant Ink reported that clear communication about the line between the company's strategy and the daily work of employees led to increased employee engagement.
Did you have the tools and resources needed to effectively do your job?
If employees aren't set up for success, from the beginning, they won't be engaged, and so will begin looking for challenges elsewhere. Identifying what you are doing well, and how you can improve employee support will help you identify what areas you need to strengthen.
What was your relationship like with your manager?
According to BambooHR, issues with a manager is one of the top five reasons why employees resign. As important as it is to find an employee that matches the company culture, it is crucial to ensure that the managers are able to interact effectively with all employees. Although you cannot force everyone to mesh well, you can provide support where needed to assure a stable work environment.
What did you like most about your job?
Although the exit interview is a chance to receive constructive criticism from your departing employee, you also want to highlight any positives from their experience at your company. Along with learning areas of improvement, you will be able to learn what aspects of the job you should maintain for future employees.
Exit interviews may seem like a waste of time and money, but if conducted in an efficient manner your company will gain insight into what can be improved in the future.
---