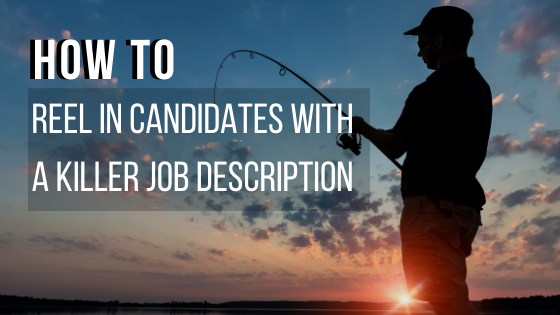 Just like a killer headline, a well-crafted job description can make all the difference in attracting your dream candidates. Think of your job description as a net you cast to attract and reel in qualified candidates. With all the competition casting out their nets, how exactly will your job description attract your dream candidate?
Check out these 4 innovative ways to create a killer job description.
What Does Your Company Have to Offer?
It used to be a big no-no to include compensation details such as salary perks, benefits and incentives on your job listings. But in today's competitive market, savvy candidates want to know this information before they'll even consider applying. Providing salary ranges, information on competitive employee benefits and perks will help steer your most qualified candidates to your team.
Find Your Company's Voice
Write the job description in the voice and language that matches your company's personality and evokes the values and uniqueness of your company's culture. How is your company culture unique compared to others? Are you a casual company or a button down corporation? Remember, your "net" should be made to attract people who are right for the position and, most importantly, your company.
Listing Responsibilities
Dr. Gordon Medlock, Sr. Talent Management Consultant with HRIZONS explains that there are 3 general approaches to writing job responsibilities, these include:
A detailed task list
A list of job responsibilities and associated tasks, or
A list of job specific competencies
Whichever approach your company decides to use, it is important to keep the list concise. Use bullet points and direct language to allow prospects to easily read through the responsibilities without getting lost. Make sure to include requirements for the position such knowledge of specific tools, certifications, and education.
Embrace Modern Technology
Spice up the job description with photographs that shows off your team and workplace, or videos that embody your company's culture. Google's Career page exemplifies the company's culture and atmosphere through the use of bright photos. This is an opportunity to give prospects an inside look at your company and to show off any unique features. NASA's video, "Careers: Women at NASA" is catered to women and gives an in depth look at NASA's corporate culture, various positions available, and employee testimonials.
Social media is a great way to spread the word about your openings. Advertising your job openings on various social media platforms provides a larger talent pool to choose from. Time Inc. uses Twitter as another platform to advertise their job openings as well as to provide tips and advice for prospective applicants. Who knows, your next high performing employee may be a current follower!
---