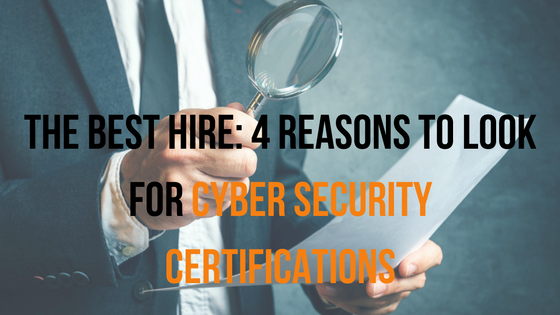 All too often, hiring managers get caught up on their checklists, looking only for direct experience or a set number of years in the field. However, with over 1 million available jobs in the cyber security industry, it's safe to say it's time to think outside of the box when it comes to filling these positions.Cyber security professionals need a dynamic range of skills, so even though your job description may not stipulate certain certifications, when you come across a candidate with certs (even unrelated to your space or sector) you need to sit up and take notice as there is an important set of skills those certs are pointing to.
Here are 4 key qualities that cybersecurity certifications can tell you about a candidate.
Motivation to Succeed
There is no greater motivator than the drive to succeed. Often people will need some sort of trigger to get them inspired and motivated. However, if a person has motivated themselves to go out, study, and complete the exam, then you know you're looking at someone who is both driven and creative. You can be assured that this individual is someone who, when they've set their eye on a target, will do everything they can to accomplish their goals.
Life Long Learner
In a time when technology is constantly advancing, an individual who is dedicated to always enhancing their knowledge and education is the type of person you want on your team. You need your employees to always play at the top of their game whether it be configuring new security software or managing a security breach. When you are working in a market that is constantly changing, you need people who make it their business to stay current. Pursuing certifications is a strong indicator that a candidate has both the drive and the ability to stay informed.
Agility
Most certifications exams are difficult to pass with minimal job experience. After all, the greatest learning tool is getting out and getting your hands dirty. A study conducted by CEB Communications showed that agile employees outperform hard workers. When developing your team, you want quick learners who are swift on their feet. Agile employees are the one's who nail down a skill and are able to pass on their newly acquired knowledge to their coworkers. They can think around corners and have the facility to think ahead to the next move. These type of individuals are ready for the unexpected and know how to work their way through difficult situations.
110%
The people that are successful are the individuals who give their all. Some of the certification exams require hundreds of hours to prepare for- and they are not the easiest of tests to pass. The type of person who will learn and provide their maximum effort is the same person you want out in the field with your team. If they have a problem, they will find a solution, and if they don't understand something, they won't let it go until they do. Former Yankee Manager and 6x World Series Champion, Don Zimmer, once said, "What you lack in talent can be made up with desire, hustle and giving 110 percent all the time."
There will be candidates that don't meet all of your expectations, but may come equipped with certain skills or credentials that make up for the absent ones. Instead of restraining yourself and having the job description be your checklist, use it as a simple guideline. When you look beyond the norm, and look into a candidate's skill set, you are not only opening up the range of possible hires, but you are strengthening your team in the long run.
Related Blog:
5 CYBER SECURITY CERTIFICATIONS YOU NEED TO GET AHEAD