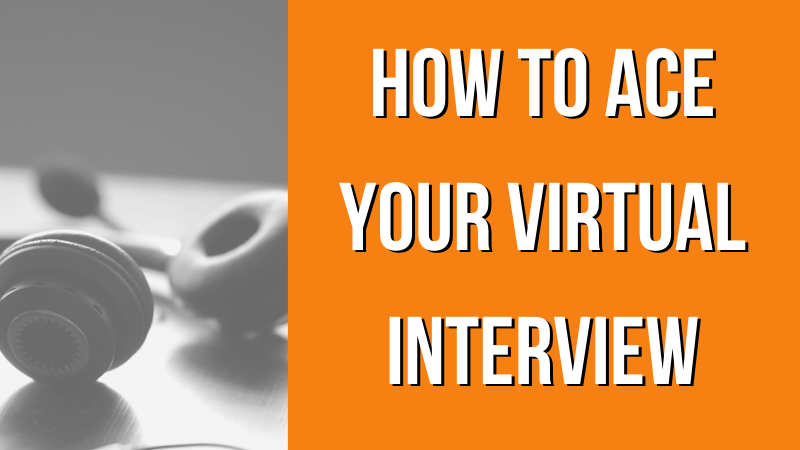 Covid 19 has wreaked havoc on many Businesses, Industries and peoples' lives as a whole...
For those seeking new job opportunities, the option to attend an in-person job interview is simply not viable. Therefore, virtual interviews have become the new norm.
However, what exactly is a virtual interview? What equipment do I need to have for a successful virtual interview? What makes a Virtual interview so special? How can I prepare for a virtual interview?
What is A Virtual Interview?
Simply put, a virtual interview is an interview done over Video Conferencing Software. The interviewer will send you a link to a call, either on Zoom, Google Meets, or Skype. You can then talk to and see the person on your computer screen.
What are the differences between Live and Pre-recorded Interviews?
Video interviews come in two forms chosen by the company: Live and pre recorded.
A pre-recorded interview is when the interview questions are shown on your computer screen and you record your answers in a given amount of time. The interviewer will review your answers at a later time.
A live interview is when you join a video call from the interviewer on a conferencing platform.
What are the Benefits of Virtual Interviews?
Interviewing remotely has many facets that can benefit both the candidate and the employer.
Hire Globally: Candidates that live in geographic areas far from the business headquarters can still be interviewed via Virtual Interview to work in the office or do remote work.
Hire the Best Employees: Being able to interview candidates from various locations can help increase a company's talent pool.
Faster Hiring: Pre-recorded interviews can save the hiring manager a ton of time and make it easy to share candidate responses with other team members.
Reduce Cost: Additionally, this eliminates the travel costs employers incur when traveling to interview people.
Flexibility: Do you have to get your kid to a soccer game at 3PM but have time mid-morning or after dinner to interview? No problem! Virtual interviews can be done at a time that is convenient for both you and the interviewer.
How do Virtual Interviews differ from traditional in-person interviews
Face to face interviews have preparation steps that we have all been familiarized with. However, virtual interviews have some different steps to take.
Here are a few virtual interview tips:
Reliable Internet Connection: You will need a wifi connection and bandwidth speed at least one megabit per second.
Professional Space: You will need a space that is well lit, with a professional appearance and free of any distractions, including family, pets and loud distracting sounds.
Alternative Solutions: If you are lacking a good wifi connection or private space, consider checking out your local library. They offer private rooms you can rent, additionally they may be able to provide you with any equipment you're lacking. Or ask a friend or family member if you can borrow equipment.
Equipment preparation for Virtual Interview
Having a functional work space with the correct equipment is key. You will use several pieces of equipment to make your video interview work.
Some of the equipment needed include: a webcam (internal or external), a headset or microphone, adequate lighting and the software required to interview on whatever platform the interviewer uses, usually Skype, Zoom, or Google Meet.
Interview Space
Are you a detail oriented person?
Well… that dirty pile of laundry in the corner of your room might make your interviewer think otherwise.
The space you choose for your interview should appear professional and organized. Your bedroom, a guest room, your home office or kitchen are usually good places to orchestrate your virtual interview.
Hardware
Webcam
Most computers come with a pre-installed webcam. However, external webcams are a better option for most as they give you more options in terms of image control, positioning and image quality. Additionally, many external webcams come with software to adjust exposure, balance, and color.
Pricing for external webcams will vary depending on quality, and features and can range from $25 to upwards of $200. If you are looking for something of quality, yet cost-effective, the Logitech HD Webcam C270 is a great option.
When setting up your webcam, be sure it's approximately eye level, slightly pointing downwards. If necessary, place some books under your computer to raise the height of your webcam. You want to make sure you can make eye contact with your interviewer.
Lighting
If you really want to give off a professional impression, lighting is key to your success. Regardless of the webcam you decide to go with, if you are doing the interview in a dimly lit space, you are putting yourself at a huge disadvantage. Since the interview is virtual, your body language is important therefore it must be seen.
While you do not need to have expensive lighting, the quality of the light projected is important. A budget friendly solution is to purchase some inexpensive clamp lights and some full spectrum bulbs from your local home improvement store.
Microphone/Headset
"I'm sorry, I didn't get that" "What did you say?" "Could you please repeat the question?"
Interviews are stressful for both the candidate and the hiring manager. A smooth interview is one without technical difficulties including echos, background noises, and poor sound quality. That being said, it is imperative that you invest in a proper headset and microphone.
The Logitech H390 USB Headphone is a fantastic option and won't break the bank.
Software
There are many different platforms that hiring companies may choose to use for their interviews. The most common of these are Google Meets, Zoom, and Skype for Business.
You should take the time to familiarize yourself with these platforms. Make sure the username that you use is professional. "Skateboardkid08" may have been cool in the times of AIM, but times have changed.
Best Practices for Virtual Interviews
Your equipment is set up properly and you're able to use it....great, now what? Similar to how you prepared your equipment you need to prepare for the big day itself.
Preliminary Research
The more time you spend researching and preparing for the interview, the more comfortable you will be, and the more confident you will seem to the hiring manager.
Educate yourself on the company and role for which you are applying.
Check out the company's Social Media Channels and website.
Learn about any exciting news that has occurred within the company or industry.
Connect with people associated with the company to get some key insider information.
Take the time to find out some of the frequently asked interview questions. This way you can think of relevant past work experiences or projects to answer the questions and show your capabilities.
What is the proper dress code for a virtual interview?
When it comes to virtual interview attire, the general rule remains the same; dress to impress.
Having a professional and/or business casual look is still important for a virtual interview outfit. Studies show people feel more authoritative, trustworthy, competent, and confident when wearing formal business attire.
Here are a few more things to keep in mind:
Avoid loud, distracting patterns
Avoid black and white colored clothes
If you were glasses, make sure the are glare free
Keep the jewelry to a minimum
Go light on the makeup
How to deal with nervousness
Interviews are likely to give even the most experienced interviewers nerves. The best solution for nervousness is preparedness.
Log into the platform where your interview will be hosted 10-15 minutes before your scheduled start time. Do a final equipment check to make sure everything is operating properly. Review your keywords, talking points, and make sure your documents are organized and ready to go.
Take several deep breaths and focus on being relaxed and centered.
If you are feeling nervous about your interview the day before give this a try...
When laying in bed and before falling asleep, reach into your memory bank and find your most successful interview. Replay that over and over in your head. Try and feel how you felt during that interview and if possible recall what you said or how you behaved. This will put positive energy in your head and help you relax for your big day.
What to do if things go wrong
Things don't always go as planned. Technology can be finicky, even challenging at times. Before your virtual interview make sure you have a contact with a phone number. That way, if something happens, you can call the person and ask to reschedule or continue over the phone.
How to Rescue Your Interview from a Bad First Impression
Follow Up
If you want to leave a great impression on the interviewer, make sure to write a follow-ep email.
In this email you want to:
Thank the interviewer for their time
Highlight the ways your talents are suited for the role
Include anecdotes from the interview and job description
A well-constructed follow-up email showcases your communication and active listening skills; both of which are highly sought after soft skills.
Now, go to ace your virtual interview!