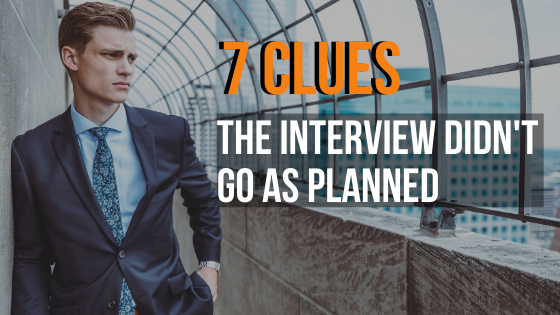 The most difficult part of the job search for many is the dreaded interview. Interviews are designed to test applicants to see if they will be a good fit for the company. After an interview, it is normal to spend time waiting for a phone call as you hope to land that next job. However, if you pay attention to a few details, you can probably already tell if you have shot at the job or not. Knowing when an interview didn't go as planned is just as important as feeling good when you know it went great. This allows you to stop the waiting game and keep going with your search so you can land a job that will be a great fit for you much more quickly.
7 Clues the Interview Didn't Go As Planned
1. The interview is cut short.
Many companies will give you at least an estimate of how long to expect your interview to last. Based on how it goes during the interview, it could go longer or much shorter. If it seems to run much shorter than you expected, chances are they decided at the beginning that you are not a right fit for the position and chose to end it early to not waste both their time and yours.
2. The interviewer seems distracted.
If during the course of the interview the conversation doesn't seem to go well or if the interviewer appears distracted or uninterested in what you have to say, this could mean that you haven't made a good impression or at least they have quickly decided that you do not fit well with their company or position.
3. You only get asked the easy questions.
So many people dread interviews because of those tough questions that require you really to think and think quickly. If over the course of the interview you only get asked about your work history or easy questions about yourself, this could actually be a bad sign. If an interviewer is truly interested in you they will pitch the hard questions to try to learn even more about you and how you would handle some of the most difficult situations on the job.
4. They don't try to sell you on the company or position.
If a company likes what you have to offer and is truly interested in adding you to their roster, they will spend time during the interview trying to sell the company to you. As much as you might want a job offer, they want to be sure you will say yes to the offer. If during your interview there is very little mentioned about all the great things going on in the business, chances are they aren't considering you for a position so they feel no need to sell the company to you.
5. You aren't asked when you are available to start.
If a company really wants to add you to their roster, they will want to know when you can start. When hiring a new employee there are many things that need to happen in order for the company to prepare for your arrival. If they don't care when you can begin working for them there is a good chance they don't intend on hiring you at all.
6. Salary isn't brought up during the interview process.
If a company is truly interested in you and they believe you will be a good fit for their business, one of the first things they will want to find out is if they can afford you. If salary is not brought up or if the interviewer seems to have an issue with salary expectations, it could be a sign that ultimately it doesn't matter to them because you are not being considered for the position.
7. The interview ends without talking about the next steps in the process.
Most companies require much more than just one single interview before you are hired. After that initial interview, most companies will want to schedule a follow-up interview or at the very least check your references. If after your first interview there is no mention of what the next steps are, there is a good chance you aren't getting the job.
All of the signs we have discussed can help you determine how well you did in your interview. If all signs point to a bad interview, do not despair. Bad interviews do not mean you are a bad candidate, just a bad fit for that company. Remember, interviews are designed to help both the company and you determine if the job is a good fit for both parties. If it's not and you believe the interview did not go well, brush yourself off and be thankful for the opportunity and keep searching until you find that perfect job.
Written by Lisa Rangel, Executive Resume Writer
---