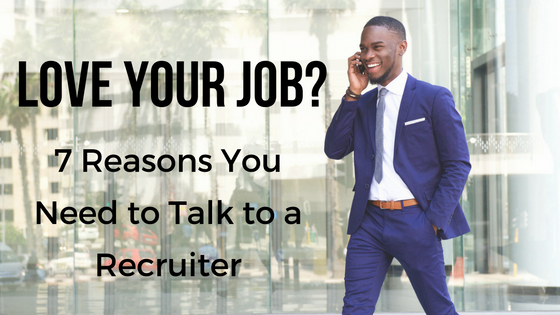 Love Your Job? 7 Reasons You Need To Talk To A Recruiter

When you're happy in your job, taking calls from recruiters may seem counter-intuitive. But it's actually one of the best times to speak with a headhunter.
Here are 7 reasons why you should talk to a Recruiter (And one Bonus reason):
1. There's A Lot To Be Gained
Your time is worth a lot and you don't want to waste it, so it's understandable if you don't want to hear about another job opportunity. But, the good recruiter knows how to get to the point, and they won't take an inordinate amount of time, yet he very well may have a lot to offer.
It's worth a few minutes to learn about possible open positions in your field and to make a connection with a respected recruiter. And all it costs is a bit of your lunch break.
2. They Know How Green The Grass Is
You may not think you're interested in leaving your current job but recruiters often work to fill positions that aren't entirely public yet.
Speaking to a recruiter gives you insight into the possibilities in your industry as they are often on the leading edge of trends and market movement. It's highly possible they are working on filling jobs that you'd have no other way of knowing about and could be a good fit for you.
3. The Future Isn't Now
Even if none of the jobs the recruiter has to offer are what you want, remember, this phone call is not wasted time.
Save their number, ask them to keep you in mind for future openings, and then keep doing what you love. Just because they don't have the perfect opening for you right now, doesn't mean that in 6 months or 3 years that your dream position won't be open. Or that your situation will be the same. Relationships with recruiters are not entirely about getting you a job.
4. Companies Change
Situations have a habit of changing.
Companies go through restructuring, and positions get overhauled. Managers and coworkers get promoted or go to another company. The company you love today may not be the same in 5 years. Maintaining your relationship with a recruiter is a great way to keep your options open without having to make any commitments.
5. You Change Too
What you enjoy and find challenging will also evolve over time.
In order to find the roles that can help you meet those challenges, you need to move organizations. After all, the average employee in America can expect to have anywhere from 10 to 15 different jobs in their career. And this is where having a relationship with a recruiter helps; When you're ready to shift career paths they are ready to help you.
6. A Chance Market Research
Recruiters work in your field all the time, and they tend to know the average value of your position.
A conversation with a headhunter is a great way to do some of your own market research and acquire free career advice. You may find that your current compensation is not equal to the market, or you may find out how good you have it, and quell any thoughts about moving jobs. Another value recruiters add is, they can give you insight into which other industries are looking for people with your skill set.
7. Lending A Helping Hand
Just because the job isn't something you're interested in, you may very well know someone who is.
Many recruiting firms offer a referral program. 10 minutes on the phone might not get you a job, but it could advance a friend's career, and earn you a bonus.
*Bonus* Expedite the Hiring Process
Recruiters maintain a great relationship with hiring managers (Good ones at least). When you do decide to search for new opportunities, working with a recruiter will make the job search, and the interviewing process seamless.
Summary
A call from a recruiter, especially when you're in a great spot, can look like a bother. But when you know about the added value, you realize it's an opportunity to learn more about your industry and the space you work in.
Recruiters are beneficial to both active and passive job seekers alike. After all… your dream job might be out there and only your recruiter can find it.
---
If you're interested in speaking to a recruiter about your career path or job search to see if there's a role that's a good fit for you, CLICK HERE.
Related Blogs:
4 BENEFITS OF WORKING WITH A RECRUITER
FIVE QUESTIONS TO ASK WHEN INTERVIEWING