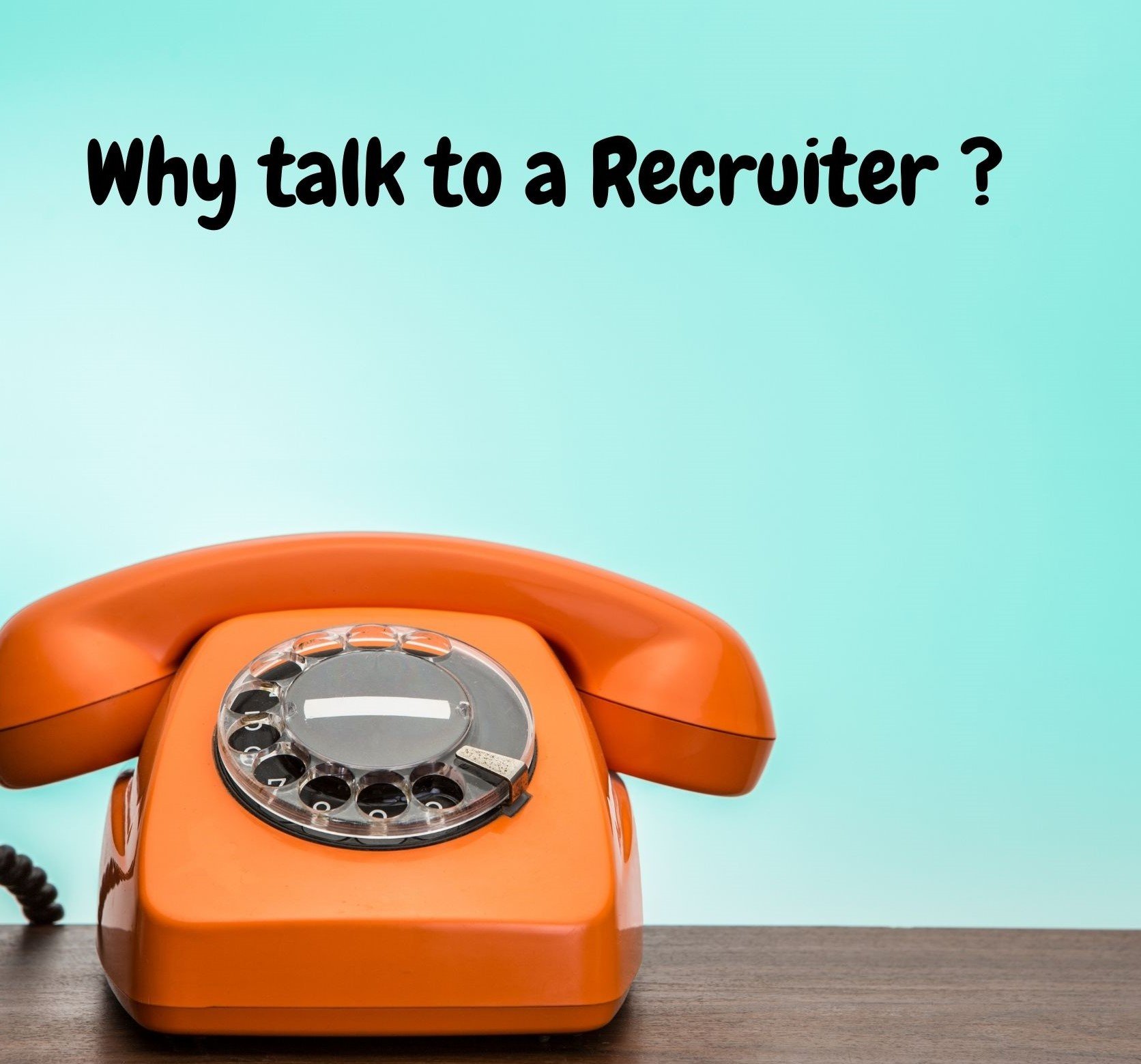 When you're happy in your job, talking to a recruiter may seem counter-intuitive.
But did you know, it's actually one of the best times to speak with a recruiter? Recruiters can provide you with a wealth of information about your career, industry news, and much more.
Remember talking to a recruiter initially is not a commitment and it certainly does not mean you have to quit the job you have currently. We thought of some of the top reasons why talking to a recruiter can be of benefit to you even when you may not be looking for a job.
You will learn about new opportunities
Your time is valuable, so if you're happy in your current job, it's understandable if you don't want to hear about another opportunity. However, It's worth a few minutes to learn about possible open positions in your field and to make a connection with a respected recruiter.
A good recruiter will know your industry like the back of their hand. When talking to a recruiter, l You may find that your current compensation is not equal to the market, or you may find out how good you have it, and quell any thoughts about moving jobs.
You will learn about current skills within your Industry
Recruiters will be able to tell you about current industry trends, trends, and courses or certifications that will keep you current in the industry in which you work.
Audio Visual Certifications:

AV certifications will jump-start your career in the AV industry and make you stand out in a crowd when applying for your next job. Being AV certified will also keep you current with AV standards.
Cyber Security Certifications:

Cyber Security professionals are in High Demand. With Businesses looking to safeguard their IT systems from attacks, becoming certified in Cyber Security, will boost your resume and expand your knowledge.
Crestron Certifications for AV Pros:

Crestron has become, without a doubt the worlds leading manufacturer of advanced control and automated systems. For this reason alone, all AV professionals should consider Crestron Training as a sound career investment.


Relationships with recruiters are not entirely about getting you a job
Remember, talking to a recruiter today does not mean you have to leave your current job. If you are happy in your current situation, save the recruiter's number, and ask them to keep you in mind for future openings, and keep doing what you love.
Just because they don't have the perfect opening for you right now, doesn't mean that in six months or three years that your dream position won't be open. Or that your situation will be the same.
Companies Change
Like most things in life, work situations have a habit of changing. Companies go through restructuring, and positions get overhauled. Managers and coworkers get promoted or go to another company.
The company you love today may not be the same in five years. Maintaining your relationship with a recruiter is a great way to keep your options open without having to make any commitments.
Like companies, you too will change
What you enjoy and find challenging will also evolve over time.
In order to find the roles that can help you meet those challenges, you need to move organizations. After all, the average employee in America can expect to have anywhere from 10 to 15 different jobs in their career. And this is where having a relationship with a recruiter helps; When you're ready to shift career paths they are ready to help you.
Help a Friend get a job
Just because the job isn't something you're interested in, you may very well know someone who is. Many recruiting firms offer a referral program. 10 minutes on the phone might not get you a job, but it could advance a friend's career, and earn you a bonus.
A call from a recruiter, especially when you're in a great spot, can look like a bother. But when you know about the added value, you realize it's an opportunity to learn more about your industry and the space you work in.
Recruiters are beneficial to both active and passive job seekers alike. After all… your dream job might be out there and only your recruiter can find it.