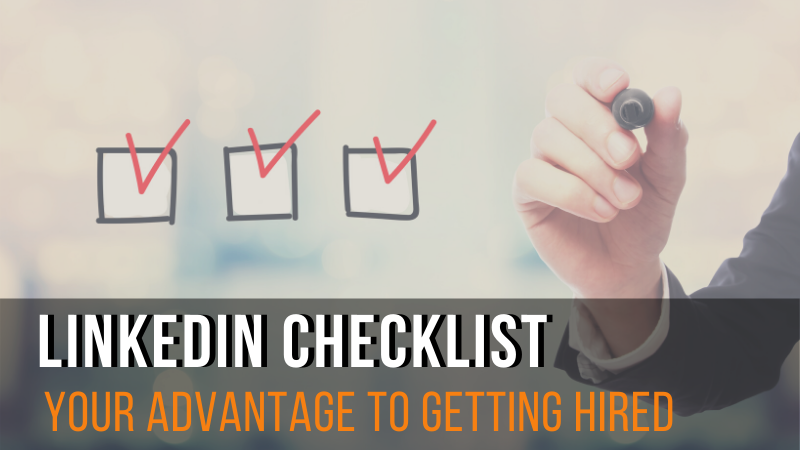 Every day at J. Patrick + Associates, we see first-hand the intense competition in the job market. Trust us in saying that anything you can do to help your chances is definitely something you should do.
One of the most important recruiting tools in the JP+A tool kit is LinkedIn Recruiter. The tool enables our recruiters to find the right candidate for the job almost 100 percent of the time.
Your LinkedIn profile is something that you shouldn't take lightly--you never know who could be around the corner looking at your profile. In fact, it could be the employer of your dreams looking for that certain someone to bring on board.
There are many different items you could add to your LinkedIn profile. But which ones are the most important?
How to Optimize Your LinkedIN profile
For starters you'll want to add a professional picture. This is often the first thing that draws in potential employers. Remember, once it's out there, anyone can see it. If it is inappropriate for your industry, chances are you will not be hearing from any recruiters or hiring managers.
Another must-have in your LinkedIn profile is a detailed professional summary. Don't be afraid to showcase your areas of expertise and other skills in which you excel. If a hiring manager or recruiter stumbles upon your profile and your summary is top notch, they're likely to be very optimistic when viewing the rest of your profile.
This next tip may be the most important. When building your LinkedIn profile, don't skimp on the job descriptions. Detail, detail, detail! Let everyone know what you did, how you did it, and when you did it. Many times the recruiters at J. Patrick + Associates have come across profiles that list high-ranking, important, even mission-critical jobs. Unfortunately, all too often there's just not enough information there to connect them with the job requirements that the recruiters must fill.
Also, your educational background is a fundamental component of a complete and professional LinkedIn profile. Ensure that you enumerate and describe all the degrees that you have earned. Listing your colleges may also help in another way: if the recruiter or hiring manager sees that you went to the same college as they did, it's frequently a leg up.
On LinkedIn, just as in the old-fashioned bricks-and-mortar job hunt, you must connect with people. Connecting in LinkedIn is extremely important; it helps you distribute your profile and your personal brand throughout the LinkedIn network.
Furthermore, ask your contacts to endorse you. Endorsements, like references, serve to showcase your capabilities as a professional and your desirable qualities as a person. People trust and value people who are already trusted and valued by others.
Speaking of reputation management, are there any articles that talk about you in a positive light? For that matter, have you published any articles showcasing your experience and expertise? If so, definitely add these to your LinkedIn profile. Publications that showcase your abilities and past success could be the tipping point that gets you on a future employer or recruiter's short list.
Last but not least, provide your contact information. Be as complete as possible. Whether it's an email address, phone number, both, or more, remember that LinkedIn is your tool to connect with potential employers. You can't harness the power of the Internet without connecting - and nothing is more frustrating for a recruiter than a possible candidate that cannot be contacted. While a recruiter or hiring manager could certainly send you an inbox message via LinkedIn, don't let this be your primary means of contact.
LinkedIn has grown to become one of the most important business social media sites in the world today, and it is only getting bigger. With around 225 million users (and growing) you have to do all you can to stand out from the crowd.
---