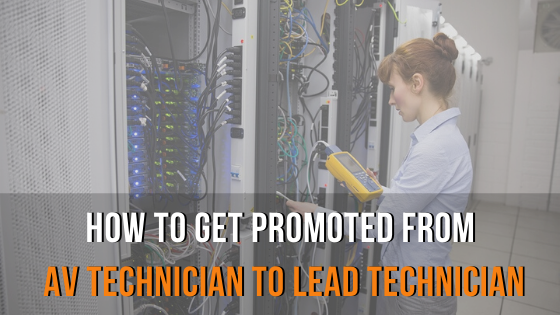 As a follow up from last week's article How to Start Off Right as an AV Technician, we will look at taking the next step in your career. For an Audio Visual Technician (AV Tech) this often means moving up into the position of Lead Technician.
How to Move Up from AV Technician to Lead Technician
Know customers, and Know Them Well
Just because you're an AV technician doesn't mean you don't need to be polished in front of customers. The same goes for a Lead Technician, just ten times more.
If you want to prove yourself as leader material, customer service is key. Take every opportunity to get in front of them, and find your way of working with them. Lead Technicians are the face of the company and need to have great people skills.
Specialize. Hard.
Being a Lead requires being the best at dealing with the team's specific task. So find what you really enjoy, and get good at it. Become the best.
Speak to your manager about acquiring more certifications. If they won't pay for it, get as many as you can on your own. CTS, CTS-D, CTS-I and other certifications show that you have skills beyond the norm, and the dedication to finish what you set out to do. Keep current with InfoComm for information on the certifications, and when the next training session is taking place. Show prospective employers that you have the skills to lead a team through a tricky situation.
Experience Experience Experience
If there is one thing that every single Lead technician has, it's the experience. And experience is only gained in the field.
Find your own way of doing things. When you come up against new challenges, test ways to work through them. Listen to your Leads, ask for advice and always keep your eyes open. It's short and simple, but it's the most important thing you can have.
Learn Leadership Skills
The biggest difference between an AV Technician and a Lead technician is the ability to do just that: Lead. So pay attention to the Leads you work with. How exactly do they support and lead the team?
Take leadership courses. Read blogs, books, and papers about leadership, and what it takes to be an effective manager. Learning skills beyond the technical side is what will set you apart from your peers for promotion.
Polish Up
Leads spend more of their time in front of customers. They've refined not only their skills in the field and with the customer but with the managers within their company.
Come in early, leave late. Even though your job requires casual clothing, make sure you look your best, free of stains and logos (other than your company of course).
By presenting yourself as someone to be taken seriously and professionally, you make it easier for others to see you that way. Show your company that you are the person they should have representing them to customers.
Get Going
Pushing yourself to gain leadership abilities, and having the technical skills to boot are surefire ways to prove to management that you are the best choice for their next Lead Technician.
---