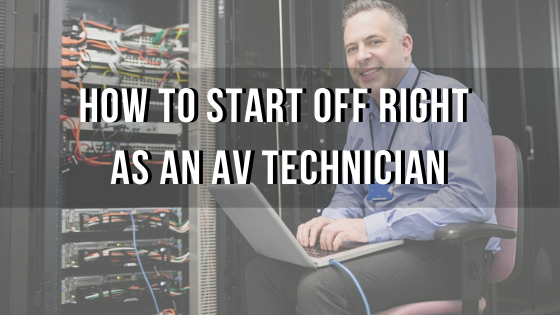 With the Audio-Visual industry continuing to thrive, the demand for Audio Visual technicians outpaced the supply. Opportunities are plentiful for qualified technicians, even if they haven't worked in AV before, with the caveat that they possess some fundamental skills required in the audio-visual space.
If you're looking to move into this growing field, here's what companies are looking for in their entry-level Audiovisual technicians.
What companies look for in entry-level Audiovisual technicians
Ability to Learn
When you enter the AV field, you'll need a propensity for working with electrical equipment since the AV space requires you to work with different audio, video, and computer technology.
There are several related fields that can help make the shift into AV easier, such as:
Photography

Creative Media Production

Audio Production

Digital Media Technology
While working in these areas does not necessarily prepare you for the particulars of an AV technician job, they do give you a working knowledge of some of the Audio Visual equipment, as well as the vocabulary of the field.
Related Experience
Employers who are willing to hire techs from outside AV are going to first and foremost be looking for work experience -- most likely 3-5 years in a related field. You'll also need to build a familiarity with the different applications (Commercial Businesses, Residential Homes, Government, Healthcare) and the equipment/ manufacturers (Extron, AMX, Crestron and DSP) associated with each sector.
Improving your knowledge of circuit boards, processors, chips, electronic equipment, and computer hardware and software, including applications and programming can all prove your ability to adapt to different settings. Also, keeping an updated portfolio with testimonials, pictures, and/or schemas will help give an in-depth representation of how you've performed in the past.
Communication Skills
As a post-sales or pre-sales technician, the ability to communicate with customers and co-workers is an imperative tool to keep holstered to your work belt. The ability to explain the process in layman terms, or in a manner that requires no prior knowledge in the designated area is highly valued.
Working in this space demands that you must be able to meet customer demands and resolve any problems that may appear. Following the installation process, customers will often have questions regarding the procedure and last minute "How to's," and covering those questions will fall to you.
Thinking on the spot
Out in the field, AV service technicians are often faced with numerous situations where they need to thoroughly analyze an obstacle and create a solution.
The problem may be as complex as having to troubleshoot a Crestron system, or as rudimentary as coming up with an on-the-spot solution to limited space when hanging monitors in a university common room.
Regardless of the size, you need to be prepared for unforeseen complications and be able to efficiently diagnose a problem, in order to produce a worthy solution.
Positive Attitude
Similar to a pitcher throwing a curveball, unpredictable complications arise on the job. However, the way you handle your attitude and take control of the situation will ultimately determine the outcome.
A strong and positive attitude influences the customer experience. You will be the face of the company out in the field, you need to be comfortable in that role as a brand ambassador. Remember to keep your head high, even in the most arduous situations.
With the right set of qualifications, and an interest in working on the user end, being an AV technician can be a most rewarding career trajectory.
Looking for a full time or part time AV job? Click the link below to connect with a recruiter and find out what's available for you!
---
Sound like you? J.Patrick & Associates has multiple AV Industry Jobs which we encourage you to check out!
Looking for a project engineering, audio engineering, project manager, sound engineer, design engineer, sound technician, or any technician position? Click Here to search all our jobs!
---