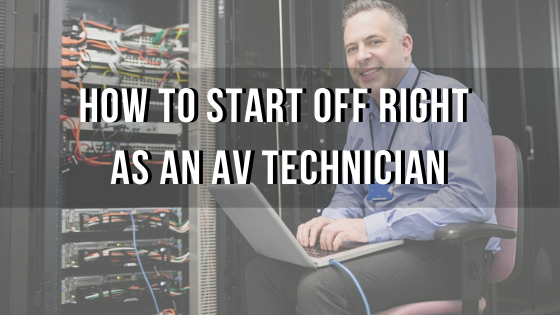 As AV thrives, the demand for Audio Visual technicians is outpacing supply. Even if you haven't worked in AV before, opportunities are plentiful for qualified technicians, in so long as you possess some fundamental skills.
Audio visual technicians set up, operate, maintain, and repair sound and video equipment for live events like concerts, sports games, business conventions, meetings, webinars, and distance learning. They might also assist in the production of movies, TV programs, CDs, and DVDs.
If you're looking to move into this growing field, here's what companies are looking for in their entry-level Audiovisual technicians.
What companies look for in entry-level Audiovisual technicians
An associate's or bachelor's degree in audiovisual technology or a related field is typically required, however, there are times when relevant experience is sufficient. Having a strong working knowledge of AV equipment, camera, and lighting techniques will help.
Excellent computer and troubleshooting skills, attention to detail, and exceptional communication, customer service, and organizational skills are always an added bonus. That said, let's dive a little deeper into what makes a great AV Technician.
Ability to Learn
In the AV field, you need to be comfortable with electrical equipment because the AV space requires you to work with different audio, video, and computer technology.
A background in any of the following areas can stand you in good stead for a career in AV:
Photography
Creative Media Production
Audio Production
Digital Media Technology
Music production
Sporting events
While working in these areas does not specifically prepare you for an AV technician job, it does give you a passing familiarity with some AV equipment and the vocabulary of the industry.
Related Experience
Employers who are willing to hire techs from outside the AV world will nonetheless be looking for work experience - most likely 3-5 years in a related field. You'll also need to to demonstrate some familiarity with the different applications (commercial businesses, residential homes, government, healthcare), audiovisual equipment, and manufacturers like Extron, AMX, Crestron, and DSP as they relate to each sector.
Learning about circuit boards, processors, chips, electronic devices, computer hardware, and software (applications, programming, audio- and video equipment) can demonstrate your ability to adapt to different settings.
Also, keeping an updated portfolio with testimonials, pictures, and/or schematics will help give prospective employers an in-depth representation of your past performance.
Communication Skills
As a post-sales or pre-sales technician, the ability to communicate with customers and co-workers is key to success in a variety of situations including the ability to explain processes in layman's terms that require little-to-no specialized knowledge in order to be understood.
Working in this space requires that you meet customer demands and resolve any problems that might crop up along the way. Following the installation process, customers will often have operational questions and last-minute "How to's." It's important to be able to address these concerns in a comprehensible way.
Thinking on the spot
Out in the field, AV service technicians are often faced with situations that require thorough analysis and decisive action. The issue can be as complex as troubleshooting a Crestron unit or as rudimentary as deciding how best to make use of limited space when hanging monitors in a university common room.
As a field tech, you'll want to develop habits of mind that incline toward thoroughness. The better you understand the materials with which you work, the more capable you will be of delivering successful service in a timely manner.
Positive Attitude
You should anticipate being thrown curve balls. As in the life outside of work, complications invariably arise on the job. The way you handle your attitude and take control of the situation will ultimately determine your relative success or failure.
A strong and positive attitude also influences customer experience. You will be the face of the company out in the field, so you must be comfortable in the role of brand ambassador. Remember to keep your head high and project confidence, especially in trying situations.
With the right set of qualifications and an interest in working on the user end, being an AV technician can be a rewarding career trajectory. Make sure to familiarize yourself with your materials, develop your communication skills, and practice maintaining an optimistic and solution-oriented outlook, and you will be well on your way to success.
Looking for a full-time or part-time AV job? Click the link below to connect with a recruiter and find out what's available for you!
---
Sound like you? J.Patrick & Associates has multiple AV Industry Jobs which we encourage you to check out!
Looking for a project engineering, audio engineering, project manager, sound engineer, design engineer, sound technician, or any technician position? Click Here to search all our jobs!
---