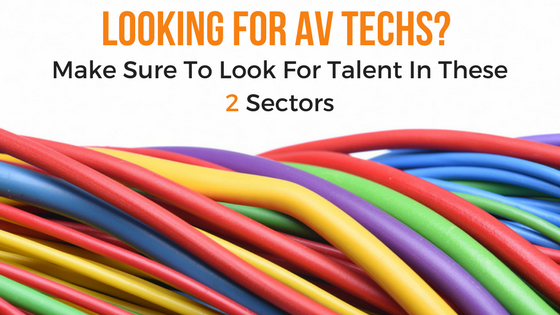 Complex AV Systems have become essential to corporations, government, education institutions, transportation, and consumer outlets. Industrywide growth is steady and each year we are seeing the demand deepen. According to NSCA's State of the Industry Report, the majority of market sectors were projecting growth between 15-55% growth for 2016. These trends are borne out in our own practice here at J.Patrick, where we are seeing high demand for talent in all AV roles. See all our jobs listed here.
One of the positions we see some of the heaviest demand is for AV Techs. And while candidates entering at this level might not need much prior experience in the field or certifications, the search for talent can still be tough. It's important to keep an open mind when vetting candidates, and considering those who come from parallel industries.
Let's explore a few such parallel industries we've found to be good sources of talent.
Music
The music industry is a natural place to search for AV talent as many of the skills and abilities are easily transferable to AV/IT. That the music industry can be a difficult place to make a living and/or to get ahead, makes it an obvious place to recruit for talent.
While many people enter the music sector for the passion and the love of music, they also realize they need an industry that can offer them career growth. AV/IT is a natural fit in that regard. We've found that the fact that techs can expect to work in a variety of settings (such as commercial locations, schools, corporations, etc) with technology that is always changing and improving, is very appealing to these kinds of candidates.
It's worth noting too that video production is also a good source for talent.
Security Video
Once upon a time security companies simply offered alarm, call, surveillance, and sprinkler systems - the tent poles of basic home/office/institution security. But those days are long gone, and we've seen many traditional security companies expanding their offerings into areas that closely parallel AV/IT.
And as a result technicians from this field are well prepared to move into AV/IT. They come with a knowledge of cabling, installation, and the kind of troubleshooting that is required of AV techs. They're well accustomed to working on-site, crawling through walls and under tables in settings that can be sensitive, cramped or in use at the time of installation.
They also have a firm understanding of how to work efficiently all while being the face of the company with customers.
Just as with other in-demand roles, when it comes to the search for AV Technicians, being willing to set aside your checklist can result in finding the best talent.
---