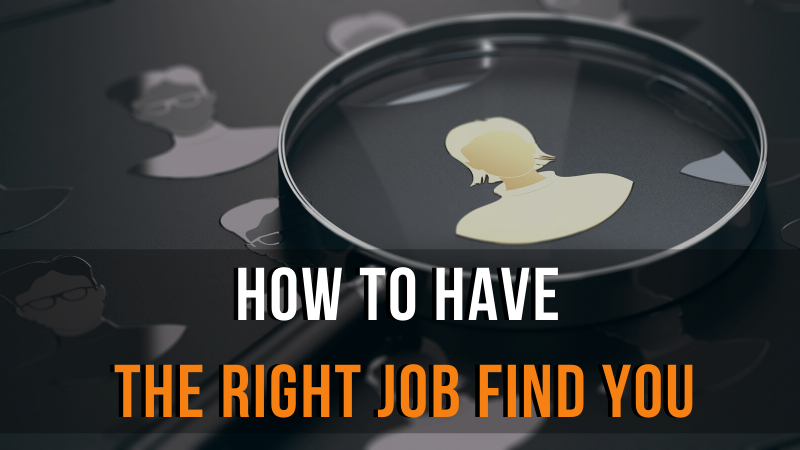 Make no mistake--being found by the right job is not a passive job search tactic. Eliminate the vision of sipping margaritas on the deck waiting for recruiters to call. Today's job seeker must put a lot of thought and hard work into ensuring she/he is a part of communities where hiring managers source for viable candidates.
There is much written about how to find the right job. However, one of the most overlooked items in a strategic job search plan is how to ensure the job seeker is searchable—or how to have the right job find you. With the prolific rise of the internet to source candidates by corporate and search firm recruiters, it is paramount that job seekers take steps to ensure they can be located and sourced for the positions they seek.
Recruiting for an open position by posting an ad is one of the last tactics a recruiter wants to utilize. It is a waste of their time to wade through a flood of resumes, which often contains many poorly-qualified candidates. So it is not very effective for job seekers to apply through a job board posting. Recruiters source and recruit--and candidates that are present and active in those pools get attention. So how do you become that candidate?
How to Be Found by the Right Job
LinkedIN Title
Ensure the title of your LinkedIn Profile states your situation and what you are looking for in your next role. It helps your network help you. For example, do not have your title be simply "SVP – Strategic Marketing." Instead, have it read, "Marketing SVP | Consumer Products | Digital & Traditional Strategy Expert"
Social Media Status Updates
Stay present in the information stream by regularly updating your social media status. This way, you keep yourself visible to your connections and audience. Out of sight is out of mind--in order to be thought of for particular roles, you need to be present and top of mind.
You can update your status by offering pertinent industry information, attendance to virtual and live tradeshows, participation in industry learning events, volunteer activities, or athletic and hobby achievements. This way you are branding yourself as well as demonstrating that you are a life-long learner and an active-in-the-world type of person. This is highly desirable to prospective employers.
Be Search Term Rich
Hiring managers use search terms to locate candidates for the positions they are looking to fill. Ensure your online resume, social media profiles, status updates, user group discussions and blogs all have relevant key words peppered throughout the text. The more search terms you have that are well-placed, the more you increase your chances of being discovered in a recruiter search.
You can never have too many friends
Ensure you qualitatively maximize your connections, friends and tweets. This does not necessarily mean you just randomly increase your numbers, but do thoughtfully to expand your reach within each social media medium. Specifically on LinkedIn, the larger your connection base, the exponentially larger your third degree reach is to search for prospective hiring managers within your target company list.
Join Relevant Social Media Groups
If you have exhausted your connections for the moment, you can increase your reach through joining relevant social media groups. Find groups in your present discipline, previous fields, industries you have interest in, geographical relevance, etc. This optimizes your search results by expanding the pool of networks.
Join Like-minded User/Industry Groups
This can be done both virtually and physically. For example, financial recruiters often seek out executives through groups like Financial Executives International or Financial Executive Networking Groups. IT recruiters source candidates in online user groups on gaming, specific programming languages, products, and shareware. Become an active participant at the in-person events as well as in virtual discussions and see how you get noticed for your knowledge and generosity with information. Follow up with new and previously-known contacts after the group's get-togethers. Contribute to online publications and newsletters. Again, stay visible so you can remain top of mind.
Answer Questions & Inquiries
Offer insight to specific questions posed by individuals both inside and outside your network. Often it can be awkward to introduce yourself to someone. But if a person you would like to engage poses a question in an online forum, feel free to offer your expertise or insight to break the ice. This is a great way you can begin to develop a relationship with that individual. Plus, you never know what recruiter is reading your answer and taking note of what skills and knowledge you may have to offer.
Give to Get
This is a universal networking mantra. All the previous tips have this underlying philosophy as its basis. When applied to job seeking, give leads to others that are not fully suited for you. Offer candidate referrals to corporate and search recruiters. Post resources that can be helpful to those in your industry/discipline. You can be helping people within your network even as you are looking. In turn, when positions applicable to you arise, your network will remember your generosity and want to assist you. Metaphysically speaking, if you are giving to the world, somehow the world gives back! It may not come back to you exactly from sources to which you gave, but it will come back, often from unexpected places.
These are a few ideas to jump-start your job search. Use them to ensure you are not only seeking the right job, but also can be FOUND by the right job! In no time, you will be on your way to a great new chapter in your career!
Written by Lisa Rangel, Executive Resume Writer
---