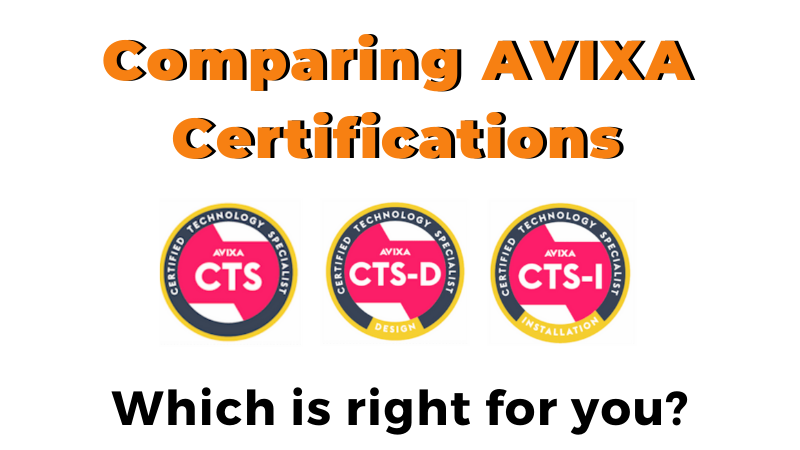 Anyone who is anyone in the Audiovisual industry knows all about AVIXA.
Formally known as InfoComm, AVIXA is the international trade association that represents the professional AV industry.
AVIXA Certifications (CTS, CTS-I, and CTS-D) are highly regarded and recognized globally, as the leading AV credentials.
Which certifications you choose to pursue are dependent on your current experience in AV, as well as your desired career trajectory.
Let's take a deeper look into the three AVIXA CTS credentials and outline which is most appropriate for you and your career.
A CTS performs general technology solution tasks by:
Creating, operating, and servicing AV solutions
Conducting AV management activities that provide for the best audiovisual resolutions of the client's needs, both on time and within budget.
What is the AVIXA CTS Certification
The AVIXA CTS or Certified Technology Specialist is the most general AVIXA certification. As a CTS specialist, you will be able to create operate and service AV solutions, and manage AV activities that best serve the client's needs.
The Certified Technology Specialist Program (CTS) is considered globally as the leading credential for AV professionals. Currently, there are 13,000 CTS holders, 2,000 of which have specialized credentials (CTS-I, CTS-D).
The benefits of a CTS Certification
Improves core competency with AV equipment

Improves credibility among colleagues

Improves marketability to potential employers and clients

Showcases willingness to learn and improve skillset

Showcases professionalism and technical proficiency

Improves career options and salary
Requirements for AVIXA CTS
There are no prerequisite courses or experiences required before applying (however AV experience would make the test much easier).
Is the AVIXA CTS for you?
If you are new to the audiovisual industry, the AVIXA CTS should be one of the first certifications that you acquire. By doing so, you will establish the baseline knowledge that you need to be an entry-level AV technician or installer.
The AVIXA CTS-I (Installation) installs and maintains audiovisual systems.
Follows specification and safety protocols

Administers Installation Process Logistics

Troubleshooting and problem-solving AV systems

Communicates with clients, and other designers to ensure the best AV solutions
Requirements for AVIXA CTS-I
In order to apply for your CTS-I exam, you must have a valid CTS certification and a minimum of two years of experience installing AV equipment.
Is the AVIXA CTS-I certification for you?
If you have a few years of experience in the AV industry and you are looking to go from an entry-level AV technician to a Lead technician or field engineer than the CTS-I can be an incredibly valuable certification for you.
The emphasis of the AVIXA CTS-I certification is the installation of commercial AV systems. Many managers at AV Integrators on the install side (i.e. Field Operations Managers and Technical Operations Managers) possess this certification. Also, a fair amount of Crestron Programmers will have the CTS-I as well. They are involved not only with software solutions but in writing the control logic for Crestron's hardware installed in integrated conference rooms.
The AVIXA CTS-D (Design) designs audiovisual systems.
Designs AV systems

Prepares documents for design

Communicates with vendors and clients to create AV solutions that meet client requirements



Requirements for AVIXA CTS-D
In order to apply for your CTS-D exam, you must have a valid CTS certification and a minimum of two years of experience designing AV equipment.
Is the AVIXA CTS-D for you?

The CTS-D is highly regarded in the AV industry and one of the most difficult certifications to acquire (Under 20% pass rate).
If you are looking to move into the design or engineering side of the AV industry (Design Engineer, project engineer, solutions architect) then the CTS-D is the appropriate certification for you. Any Management level positions overseeing a design team, such as an Engineering Director, or Manager of Pre-Sales Engineering are often required to have a CTS-D.
How much does each AVIXA certification cost?
The cost of the AVIXA certifications varies based on country, AVIXA membership, and certification type.
USD Member

USD Non-member

Euro Member

Euro Non-member

GBP Member

GBP Non-member

AUD Member

AUD Non-member

CTS

375

475

320

400

280

360

490

630

CTS-D

475

575

400

490

350

440

630

760

CTS-I

475

575

400

490

350

440

630

760

Retest/Reinstatement

130

110

100

170

Renewal

130

110

100

170
Is there an advantage to being dual-certified? (CTS-I & CTS-D)
There are currently over 12,000 AVIXA CTS holders, still less than 500 with both the CTS-I and CTS-D certifications. AV professionals who are dual certified are respected amongst their peers, highly sought after by employers, and considered leaders in the AV industry.
They are considered to have a mastery of two of the most crucial phases of the project life cycle: the design phase and installation phase.
CTS credentials are highly regarded in the Audiovisual Industry, and are well worth the investment as you then able to position yourself as a professional in the AV industry, earn you credibility among colleagues, and can dramatically put your career in AV on the fast track to promotion.
If you are passionate about AV and see yourself working in the industry in the long-term then yes, the CTS credential is definitely worth it.
---
Sound like you? J.Patrick & Associates has multiple AV Industry Jobs which we encourage you to check out!